Delaware River Basin Commission
---
Delaware • New Jersey • Pennsylvania
---
New York • United States of America
---
Home
>
News Bytes
>
DRBC Staff Help Celebrate the Return of the Delaware River Festival
DRBC Staff Help Celebrate the Return of the Delaware River Festival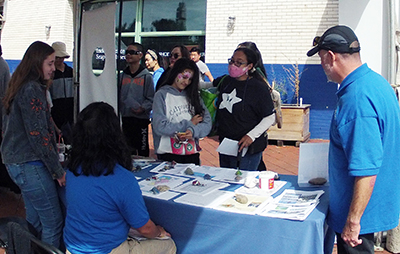 DRBC staff table at the 2022 Delaware River Festival.
Photo by the DRBC.
After two years of virtual events, the Delaware River Festival was back and in-person last month!
The DRBC staff was happy to return to Penn's Landing, Philadelphia, Pa. to participate in this coast-to-coast celebration of the Delaware River region around Philadelphia and Camden, N.J. This area of the river is part of the Delaware River Estuary, the tidal part of the river where fresh and salt water mix.
The festival, organized by a planning team that includes the Partnership for the Delaware Estuary (PDE) and the Alliance for Watershed Education, featured interactive, educational exhibits, water-related kids' activities and crafts, guided boat tours, pedal boating and kayaking and more. And, best of all, everything was offered for free, thanks to the event's hosts and various sponsors.
Staff talked to attendees about the DRBC and relayed fun facts about the watershed and about
horseshoe crabs
and
bald eagles
, two interesting and unique creatures that call the Delaware River Basin home. Staff also shared stories about the
region's connection to baseball
and about how the Delaware River played a role in why Philadelphians call their sandwiches
hoagies
. Major Macro was also in attendance, and adults and kids alike
got to become this science superhero, complete with waders, snorkel and net, everything you need to study aquatic life in the river!
The Delaware River Festival highlights Philadelphia and Camden's connection to the tidal Delaware River. In this urban region, the river is a vital natural resource and important for commerce and trade. It is a source of drinking water and also a means of recreation.
DRBC staff thoroughly enjoyed participating in this event that focuses attention on the Delaware River and its estuarine environment around Philadelphia and Camden.
Check out this timelapse of our table at the 2022 Delaware River Festival. We had a great time chatting about our shared water resources & all that depend on them with everyone who stopped by!
Commission Member Links:
Delaware
|
New Jersey
|
Pennsylvania
|
New York
|
United States
Copyright © Delaware River Basin Commission,
P.O. Box 7360, West Trenton, NJ 08628-0360
Phone (609)883-9500; Fax (609)883-9522
Thanks to NJ for hosting the DRBC website
Last Modified: 10/05/2022