Delaware River Basin Commission
---
Delaware • New Jersey • Pennsylvania
---
New York • United States of America
---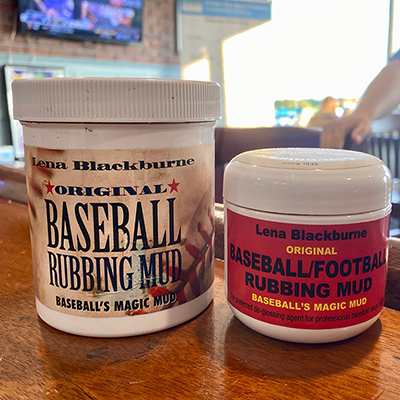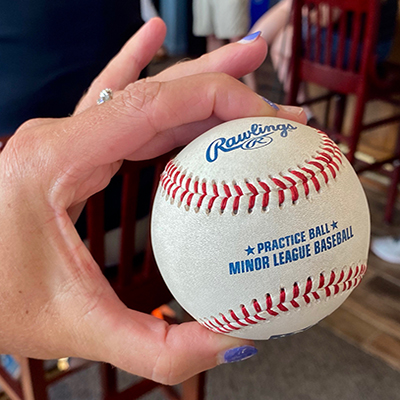 (Top) Jars of Lena Blackburne Rubbing Mud. (Bottom) An example of a mudded ball. All you need is a light coating! Photos by the DRBC.

Why Mud Baseballs?
The sheen on new baseballs makes them slippery. In the 1920s, Ray Chapman died after being hit by an errant pitch. After the tragedy, teams started to look for what could be used on baseballs to give pitchers a better grip and more control.
First they used the juice of chewing tobacco, but the umpires griped about applying that gross substance to balls before every game.
Mud made of water and dirt from the playing field was then used. But, it didn't have the right consistency.
Russell Aubrey "Lena" Blackburne, a coach with Connie Mack's old Philadelphia Athletics during the 1930s, looked for an alternative.
As the story goes, Blackburne enjoyed fishing a Delaware River tributary in New Jersey when he was younger. He revisited the spot and scooped up some mud from the creek. He tried it out on a shiny new ball -- an experiment that would alter the course of our National Pastime.
The mud, described as "smooth and creamy, but with a fine grit," worked better than the juice!
Soon, all American League teams were using this mud, and the National League quickly followed suit.
Lena Blackburne passed away and willed the secret to a close friend, whose family has been collecting and providing mud to teams ever since.
Mudding Baseballs Today
Lena Blackburne Baseball Rubbing Mud is used throughout Major League & Minor League Baseball to rough up the six or seven dozen new balls prepared for every game.
In fact, it is the only legal substance that can be added to balls. A team will go through about three or four pounds of it every season.
Colleges, high schools and little leagues use the mud too.
Others have tried to replicate the mud's unique consistency, but to date, nothing has come close.
The special connection between America's favorite pastime and the Delaware River Basin continues to live on.
Learn How to Mud a Baseball with Former Phillies Pitcher Cole Irvin!
Mudding Footballs?

You read that right - Lena Blackburne Rubbing Mud is also used in America's favorite sport - football!

Many NFL teams - including the Philadelphia Eagles - also use Lena Blackburne Rubbing Mud in their preparation of footballs for each game. The silt-based mud doesn't scratch the leather.
Related Resources
DRBC Info

National Baseball Hall of Fame
6ABC News, September 2022
New York Times, July 2022
NJ.COM, May 2022
NBC News, Oct. 2014
WHYY News, Oct. 2011
ESPN, April 2010
CNN, October 2009
National Public Radio, April 2009
Commission Member Links:
Delaware
|
New Jersey
|
Pennsylvania
|
New York
|
United States
Copyright © Delaware River Basin Commission,
P.O. Box 7360, West Trenton, NJ 08628-0360
Phone (609)883-9500; Fax (609)883-9522
Thanks to NJ for hosting the DRBC website
Last Modified: 01/31/2023