Delaware River Basin Commission
---
Delaware • New Jersey • Pennsylvania
---
New York • United States of America
---
June 7, 2023
Please join the Delaware River Basin Commission (DRBC), our Commission staff, community organizations, government partners and other invited guests as we kick off Camden Community Day, which is free and open to the public.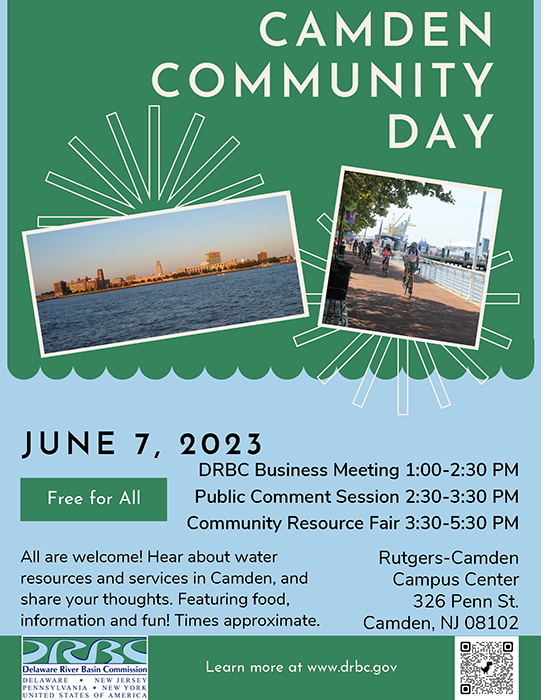 View/download flyer image as pdf
Camden Community Day Tentative Schedule
1:00 p.m. - DRBC quarterly Business Meeting, including special recognition for the City of Camden and remarks by:
Vic Carstarphen, Mayor, City of Camden
Jeffrey L. Nash, Camden County Commissioner
Elizabeth Dragon, Assistant Commissioner for Community  Investment and Economic Revitalization, N.J. Department of Environmental Protection
Olivia Glenn, Senior Advisor for Equity, U.S. Environmental Protection Agency Region 2
Nyeema Watson, Senior Vice Chancellor for Diversity, Inclusion, and Civic Engagement, Rutgers University Camden
(The full agenda can be viewed by clicking here)
2:30 p.m. - Open Public Comment following the DRBC Business Meeting (register to comment by clicking here)
3:30 p.m. - Community Resource Fair
Invitation to Vendors: If you are an organization or business wishing to table at the Community Resource Fair, register here.
Transportation and Parking:
The Rutgers University–Camden campus can be reached by public transportation in South Jersey and the metro Philadelphia area. For details visit: https://camden.rutgers.edu/visit/public-transportation.

Free and secure parking will be available in Campus Lot C16 or any available spot in any campus lot.

Rutgers shuttles are running to/from the Campus Center. Click here for map (pdf).

A free shuttle is also available from 12:30 p.m. to 6 p.m. to take people to/from the Rutgers Campus lots and the transportation hub to the campus.

The campus map and driving directions can be found at https://maps.rutgers.edu/.
Key locations in the Campus Center can be viewed here: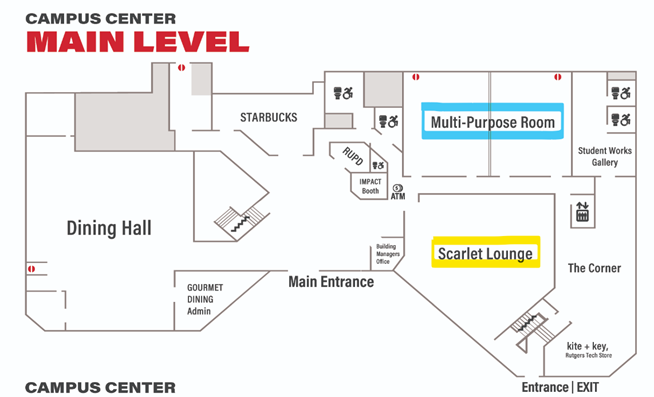 About the DRBC
The DRBC is a federal-interstate government agency tasked with managing the quality and flow of the Delaware River.
To learn more about what we do and where we work, including in Camden, we invite you to check out this short video and these slides (pdf).

Accommodations for Special Needs
Individuals in need of an accommodation as provided for in the Americans with Disabilities Act who wish to attend the meeting or hearing should contact the Commission Secretary directly at 609-883-9500 ext. 203 or through the Telecommunications Relay Services (TRS) at 711, to discuss how we can accommodate your needs.

Language & Accessibility
Any DRBC web page can be translated to one of multiple languages by using the Google Translate widget located in the upper right of each web page. Requests to translate a DRBC document will be considered; please send an e-mail to translate@drbc.gov. Please include the requested language and the requested documents. This service is for documents not able to be translated by the web page's Google Translate widget, which only translates html. Please note that it could take several days for us to provide a response to your email, and, if granted, it will also take time to provide the requested translation.
Cualquier página web de DRBC se puede traducir a uno de varios idiomas utilizando el widget de Google Translate ubicado en la parte superior derecha de cada página web. Se considerarán las solicitudes para traducir un documento DRBC; envíe un correo electrónico a translate@drbc.gov. Incluya el idioma solicitado y los documentos solicitados. Este servicio es para documentos que no pueden ser traducidos por el widget Google Translate de la página web, que solo traduce html. Tenga en cuenta que podemos tardar varios días en proporcionar una respuesta a su correo electrónico y, si se concede, también tardaremos en proporcionar la traducción solicitada.
Commission Member Links:
Delaware
|
New Jersey
|
Pennsylvania
|
New York
|
United States
Copyright © Delaware River Basin Commission,
P.O. Box 7360, West Trenton, NJ 08628-0360
Phone (609)883-9500; Fax (609)883-9522
Thanks to NJ for hosting the DRBC website
Last Modified: 06/07/2023