Resources
For each principle of the Learning Acceleration guide, key resources are included to assist school districts with planning learning acceleration efforts. The lists are not exhaustive. These resources provide reference documents and sample tools for leadership and planning teams in the design of professional learning experiences and creation of opportunities for learning acceleration for all students. Each principle includes a guiding question that may be used to provide context for Local Education Agencies (LEAs) as they utilize these resources.
The Learning Acceleration guide was crafted using a variety of resources from a developing research base.
In what ways can the larger school community work together to create social, emotional and/or mental health supports and drive accelerated learning for all students?
How can educators improve each student's access to grade-level standards through the accelerated learning process?
How can accelerated learning experiences be designed to increase both access to and depth of understanding of grade-level standards?
How can the strategic selection of prerequisite concepts and skills accelerate grade-level learning when coupled with formative practice by educators?
The resources provided on this webpage are for informational purposes only. All resources must meet the New Jersey Department of Education's (NJDOE) accessibility guidelines. Currently, the Department aims to conform to Level AA of the Web Content Accessibility Guidelines (WCAG 2.1). However, the Department does not guarantee that linked external sites conform to Level AA of the WCAG 2.1. Neither the Department of Education nor its officers, employees or agents specifically endorse, recommend or favor these resources or the organizations that created them. Please note that the Department of Education has not reviewed or approved the materials related to the programs.
Best Practice Clearinghouses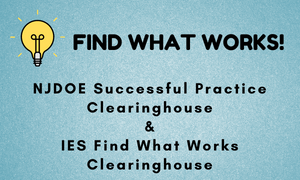 NJDOE Clearinghouse of successful practices that New Jersey school districts have identified as notable achievements in mitigating the challenges posed by COVID-19. These district-reported successes are categorized by county, district size, and topic area to facilitate meaningful collaboration and learning opportunities between similarly-situated districts.
The What Works Clearinghouse is an investment of the Institute of Education Sciences (IES) within the U.S. Department of Education that was established in 2002. The work of the WWC is managed by a team of staff at IES and conducted under a set of contracts held by several leading firms with expertise in education, research methodology, and the dissemination of education research.