The Learning Acceleration Guide summarizes the developing base of literature on learning acceleration approaches and shares promising practices from New Jersey schools. It has been crafted for Local Educational Agency (LEA) administrators with the goal of helping teachers, support staff, families, and students emerge from these unprecedented times and start the new school year stronger than ever.
What is learning acceleration?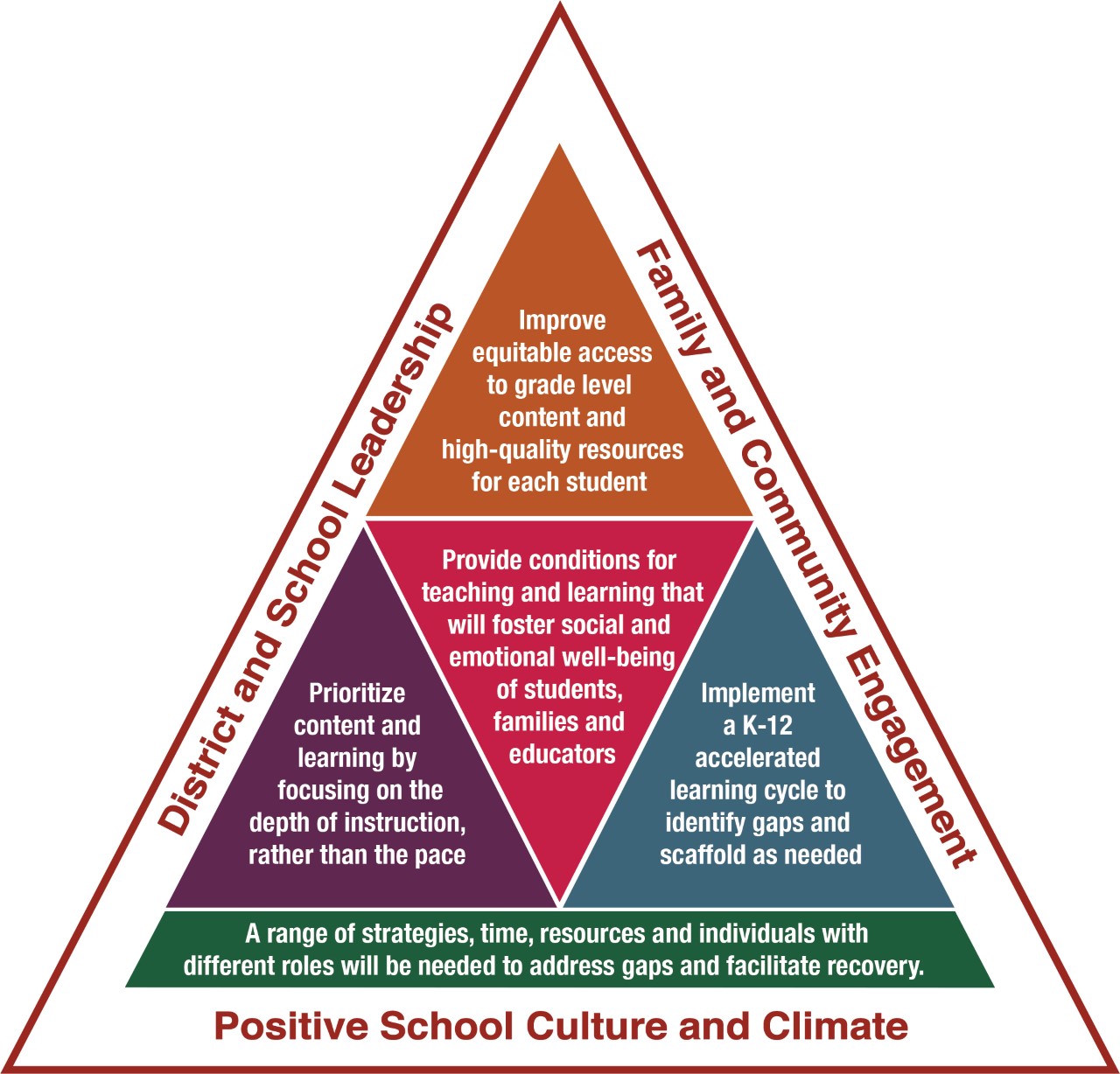 ​​Learning acceleration is an ongoing instructional process by which educators engage in formative practices to improve students' access to and mastery of grade-level standards. The goal of learning acceleration extends beyond recovering the ground lost to COVID-19; it must be viewed as a long-term, comprehensive framework that anchors districts' academic, social, and behavioral interventions to the common purpose of promoting global competitiveness for all students. It is our collective responsibility to ensure that all students, regardless of zip code or circumstance, receive a high-quality education that empowers them to compete for educational and work opportunities in the increasingly global marketplace. To make this a reality for all students requires recognition of the fact that a history of inequitable access to opportunity has put students of color, low-income students, English Language Learners, students with disabilities, and other student groups on the downside of longstanding achievement gaps; accelerating learning requires policymakers and educators to reaffirm their commitment to advancing equity for all.
Accelerating learning involves examining and improving every component of the instructional cycle. Districts must ensure educators possess an advanced understanding of the New Jersey Student Learning Standards and implement those standards through high-quality, engaging lesson plans for all students. Districts must establish learning conditions, depth of instruction, scaffolding, and progress monitoring that improve students' access to and mastery of those standards.
Description of Learning Acceleration Graphic
What are the principles that guide learning acceleration?
The NJDOE recommends that the following four principles guide learning acceleration planning and implementation:
Provide conditions for teaching and learning that will foster social and emotional well-being of students, families and educators.
Improve equitable access to grade level content and high-quality resources for each student.
Prioritize content and learning by focusing on the depth of instruction, rather than the pace.
Implement a K–12 accelerated learning cycle to identify gaps and scaffold as needed.
While these principles reflect core aspects of high-quality instruction, they have emerged as most critical during a time when schools are determining how they will deviate from their traditional methods of addressing gaps in learning to accelerate learning. It is important to underscore that a LEA's academic response should be seamlessly integrated with its social emotional and mental health responses. Adherence to these overarching principles will help ensure that all New Jersey students have equal access to high-quality instruction and educational opportunity.