2006 Honorees
Carla Bittner
Milken National Educator Awards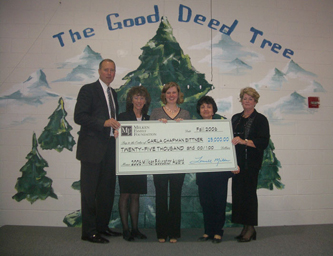 As a little girl, Carla Bittner often played school, knowing early that teaching was her passion. She earned her bachelor's degree in elementary education from Houghton College, settling in New Jersey with her husband Michael. Carla began teaching at Evergreen Avenue School in Woodbury, and became involved in Schools Attuned, piloted the multiage program and acts as the building coordinator. Carla earned her master's degree in reading education from Rowan University, just after the birth of her son Tyler. Currently she is working on her principal certification through Drexel University which she will complete shortly before the birth of her second son.
Pictured from left to right: Joseph Jones, Woodbury Schools Superintendent, Jane Foley, Executive Vice President of the Milken Family Foundation, Carla Bittner, 2006 Milken recipient, Lucille Davy, Commissioner of Education, and Frances Carey, Evergreen Avenue School Principal.
Tonya Breland
Milken National Educator Awards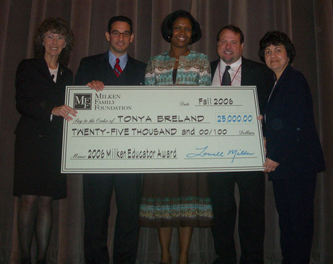 Tonya Breland's purpose is to make a difference one child at a time. One parent conveyed to her the impression made on her son, "He said that you had made him believe that he could be and accomplish anything he wanted to in life if he made the effort…". Tonya has taught on several grade levels as well as coordinated summer school and served as Literacy Coach. To meet students' needs, she differentiates instruction using menus for varying ability levels and literacy centers while playing classical music as a backdrop. She demonstrates her belief that all students have the capacity to reach their maximum potential when provided with exceptional educational opportunities, proven instructional practices, strong parental support and outstanding leadership. Tonya supports student achievement through involvement in professional development programs, Language Arts Vertical Articulation Team, Equity Team, Student Achievement Team, Grading Policy Committee, and staff mentoring. She aspires to become a principal.
Pictured from left to right: Jane Foley, Executive Vice President of the Milken Family Foundation, Chris Manno, Burlington Township Superintendent, Tonya Breland, 2006 Milken recipient, John Johnson, Fountain Woods School Prinicpal, and Lucille Davy, Commissioner of Education.