2009 Honorees
Baruti Kafele
Milken National Educator Awards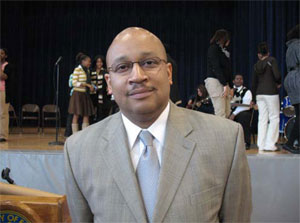 Baruti Kafele earned his B.S. degree from Kean University and his M.A. degree from New Jersey City University.
As a classroom teacher in East Orange, Kafele was selected as the 1996-97 District and County Teacher of the Year. He was also recognized six times in Who's Who Among America's Teachers.
Kafele is a strong role model for urban students as a leader and successful professional. As a principal, he led the transformation of four different New Jersey schools, including his current school, Newark Tech, which has been recognized for the past three years by U.S. News and World Report Magazine as one of America's best high schools. As a writer, Kafele is the author of five books on education issues, including his newest publication, Motivating Black Males to Achieve in School and in Life.
Kafele has turned a poorly performing school into a school that outperforms schools with similar demographics