2012 Honorees
Patrick O'Neill
Click to view New Jersey Milken National Notification Video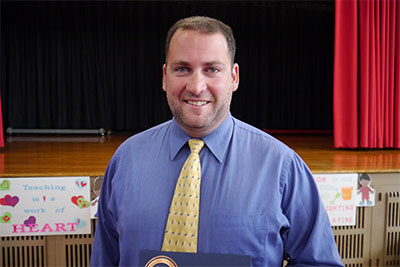 Patrick O'Neill was born and raised in West Long Branch, NJ by his parents who were both educators. He attended Shore Regional High School where he was actively involved in numerous extra-curricular activities. He lettered in basketball, baseball, and football in which he still holds the record for most passing yards in a game. Patrick continued his education at Fairleigh Dickinson University in Florham Park, NJ earning a BA in Psychology and an MA in Elementary Education. While at Fairleigh Dickinson University, Patrick was a member of the football team in the leadership role of quarterback. He was also an active member of the Sigma Chi Fraternity in which he spearheaded fundraising events for their philanthropy.
Patrick was hired in 2004 as a fourth grade teacher at Ocean Township Elementary School and has filled that roll to this day. At Ocean Township Elementary School, he is a member of the school safety committee, heads a new anti-bullying campaign, and a new literacy program. At the district level, he is helping formulate the writing curriculum, report card revisions, and technology infusion. He is also an assistant football coach at Ocean Township High School.
Patrick believes that school should be a welcoming and interesting place to spend the day. By providing a safe, accepting, and stimulating environment, children will be free to expand their capabilities in academic and social areas. He feels that giving students a strong framework in social, academic, and emotional components of the school day will allow them to become mature, independent, responsible individuals. Patrick firmly believes that all children want to succeed, want to learn, want to belong, want to be recognized as capable, and most importantly, all children can succeed.
He currently resides in Ocean Township, NJ with his wife Traci and twin sons Patrick and Tyler.