2013 Honorees
Robert O'Donnell
Click to view New Jersey Milken National Notification Video.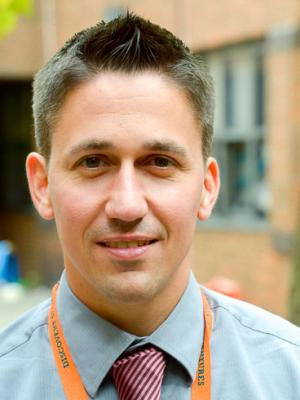 teaches sixth-, seventh- and eighth-grade science at Christa McAuliffe School #28 in the Jersey City School District. His students get hands-on science experience as they work to transform an abandoned local reservoir into an urban oasis and environmental learning center, educating the wider community in the process. Through his commitment to increasing scientific literacy, Project Reservoir has become a nationally recognized program that has helped boost achievement at Christa McAuliffe School–PS 28, where about 75% of students are Hispanic and about 83% are considered economically disadvantaged.
Before and after school, students can be found feeding mosquito-eating fathead minnows, culturing paramecia, maintaining 20 breeding tanks, analyzing data, and modifying team prototypes. The aquaculture room, in fact, has become a field-trip destination for other schools and Project Reservoir has partnerships with many organizations, including the Reservoir Preservation Alliance, St. Joseph's School for the Blind, the Concordia Learning Center, St. Peter's University, numerous public schools within Jersey City (P.S. #8, P.S. #25, Academy 1, P.S. #30), and the Newark Museum—which O'Donnell persuaded to donate three 500-gallon fish tanks.
Robert's classroom is a respectful, caring, collaborative place where he conveys high expectations of all. With the door always open to students and parents, he maintains a classroom website that has had more than 19,000 hits and a YouTube channel of past projects with more than 23,500 views. Former students return often to benefit from Robert's continued mentoring. He is known for his sensitivity to students at risk, many of whom go on to become successful college students.
Robert's dedication to science education has resulted in improved test scores; more than 83% of his eighth-graders pass the New Jersey Assessment of Skills and Knowledge science exam each year, outperforming the state average. During the 2012-13 school year, his students won more than $56,000 in savings bonds from science competitions. Robert, who has taught for 11 years and holds an M.A. in the teaching of physics, also coaches volleyball, basketball, and track, and his teams have won numerous district championships.
Robert is also a generous mentor to student teachers and to peers throughout the district who want to make Project Reservoir part of their science programs. He collaborates with other district educators and conducts presentations to colleagues on educational technology and hands-on science instruction. He is coordinator of PS 28's science fair and has represented PS 28 for events at the national level, including in 2013 when Project Reservoir was a finalist in both the U.S. Army's eCYBERMISSION, Siemens We Can Change the World, and the Lexus Eco Challenge. In 2012, Project Reservoir won a Grand Prize in the Disney Planet Challenge and in 2010, the school was named a finalist for an Intel Schools of Distinction Award for its STEM activities. As one administrator put it, Robert O'Donnell "serves as a model of excellence for the teaching profession."