2014 Honorees
Tracy Espiritu
Click to view New Jersey Milken National Notification Video: http://www.milkeneducatorawards.org/newsroom/videos/view/5345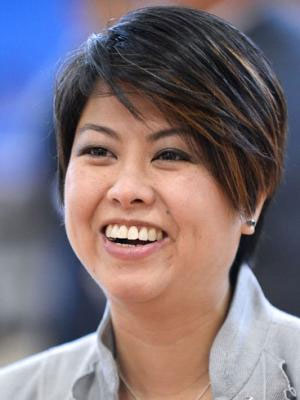 A high achiever with two master's degrees, Tracy Espiritu left a lucrative career as a product engineer to become a teacher. While she earlier dreamed of becoming an astronaut, she now puts her energies into making her students and colleagues "stars" of STEAM (Science, Technology, Engineering, Architecture, and Mathematics) education at Dr. Albert Einstein Academy and the newly opened Jerome Dunn Academy No. 9 in Elizabeth.
Despite challenges, over 80% of Einstein students scored Proficient or Advanced Proficient in math over the last four years, with an average of 25% scoring Advanced Proficient during the same period, in large part due to Tracy's efforts in her own classes and throughout the school. To further support student success, she created the afterschool Einstein Astronaut Program for grades 5-8.
In her commitment to the sciences, Tracy Espiritu involves parents in the process. She has spearheaded school events like Astronomy Night, the Family Engineering Design Challenge, and even organizing free transportation for family trips to Community Science Nights at Liberty Science Center.
Equally influential is Tracy's expertise in supporting and training fellow teachers to be effective STEAM educators. She serves as a mentor and provides ongoing professional development for colleagues in order to advance the use of best practices when teaching STEAM. She is integral in evaluating curriculum and its implementation so that students can demonstrably develop higher-level thinking skills. Tracy trained other teachers in the methodology and requirements for the Destination Imagination (DI) competition, where students have to present an original solution to a real-world problem. Now, her school's students are placing in the top-ten in international DI competition.
Additionally, she has forged partnerships with universities and serves as the NASA Explorer School Team Leader. During summers, she has taken fellow educators to JPL, Houston and Kennedy Space Centers.
Tracy is motivated by her passion for science and a deep desire to help train the next generation of explorers. She is widely respected by students, parents and colleagues for her work ethic, depth of knowledge, commitment to every student, and the academic achievement and delight in learning that her leadership as an educator has produced.