2017 Honorees
Toni-Ann Palmisano
Click to view New Jersey Milken National Notification Video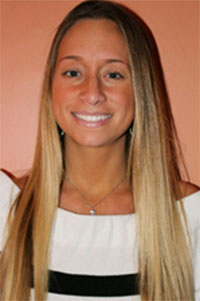 When the lunch bell rings, excited Secaucus Middle School students rush down the hall to the classroom of math teacher Toni-Ann Palmisano. The advisor to the Yearbook Committee and Student Government, Palmisano gladly spends her lunch hours with students of all grade levels and abilities, offering extra math help, planning the next school dance and working on the yearbook. She strives to create a school culture in which acceptance is appreciated and encouraged and believes strongly that extracurricular outlets help children succeed when stress or challenges arise.
In class, Palmisano teaches seventh-graders the fundamental building blocks of algebra and geometry, using many hands-on and collaborative activities. Students slice food to understand cross-sections and use virtual counters to learn about integers. Music and media figure prominently in her curriculum: lessons often include videos from PBS Learning, Scholastic Study Jams, or Math Antics, and Palmisano is known to belt out songs about pi and circumference. In the past few years, students have created their own math music videos from scratch, an activity that reinforces mathematical concepts while letting individual personalities shine. Palmisano aims to anticipate and address the question math teachers dread most from students: "When will we ever use this again?"
She is credited with helping boost the district's math assessment scores, which have risen every year since she arrived in the district. Palmisano's students scored 3 or higher on the Grade 7 Mathematics Partnership for Assessment of Readiness for College and Careers (PARCC) assessment, with the majority scoring 4 or 5 (Meeting or Exceeding Expectations).
Palmisano played a vital role in rewriting the SMS math curriculum when it was aligned to the state standards in 2010. She is the teacher designee for the parent-teacher association and sits on the Intervention & Referral Services and Communication & Collaboration committees. Palmisano mentors novice teachers, has led informational sessions for parents about the math PARCC assessments, has presented at National Council of Teachers of Mathematics (NCTM) regional conferences, and advises the high school Unico-Youth Club, which performs community service in the Secaucus area.
Palmisano earned a bachelor's degree in mathematics and math education in 2009 from New Jersey City University and a master's in educational leadership in 2013 from Kean University.
Maria DeBruin
Click to view New Jersey Milken National Notification Video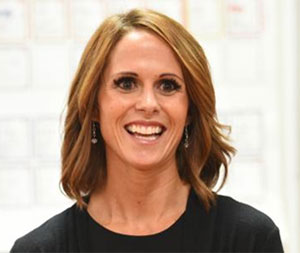 Every year, for one night in June, it's standing room only in the auditorium at Brick Township Memorial High School. During Science Night Out, Maria DeBruin's Honors Chemistry and AP Chemistry students put on a show of exciting science demonstrations, then lead hands-on science activities at stations around the cafeteria. DeBruin, who conceived the event as a way to engage AP Chemistry students in the month between the AP exam in early May and the end of school, designed, marketed and raised funds for the free community event, now an annual favorite with the small Jersey Shore town.
DeBruin pushes all her students to develop independent research skills and a strong work ethic. She uses a variety of effective instructional strategies to keep students engaged and on their toes, including direct instruction, cooperative grouping, and discovery- and inquiry- based instruction. DeBruin recognizes student achievement with "Chemist of the Week" awards; AP students work to be on her "A Team." National Honor Society members recognize her at their induction ceremony every year as their most influential teacher, and many students credit experiences in her class for their decisions to pursue careers in science. Since DeBruin took over the school's AP Chemistry program in 2013, 87% of her students have passed the exam with a score of 3 or higher; the program has also grown substantially, with extra sections added to accommodate all the students who want to study under Mrs. DeBruin.
Technology plays a large part in DeBruin's classroom. She started video recording classes each day and posting them in Google Classroom for review and to keep students who miss class from falling behind; this has been so successful that others in the building are now following suit. Students have access to a laptop cart and use response clickers and TurningPoint for interactive polling. DeBruin spent five years as a chemist at a large pharmaceutical company before entering the classroom and brings real-world experience into her lessons; her extensive knowledge about lab equipment helped her convince the district to buy a spectrophotometer, which students now use regularly.
Always striving to improve her own and the school's methodologies and outcomes, DeBruin presents research at schoolwide meetings, mentors incoming teachers, serves on the School Improvement Committee, has attended the College Board's AP Teacher Summer Institute, and shares her curriculum and materials freely with colleagues. She advises the school's Science Club and created the Fit Club to give non-athlete students a judgment-free environment in which to exercise and learn about healthy living.
DeBruin holds a Bachelor of Science in biochemistry from Hofstra University (2003) and earned a Master of Science in chemistry from Lehigh University in 2006. She received her teaching certificate in 2008 through Stockton University's Alternate Route Program.