2018 Honoree
Nicole Silva
Click to view New Jersey Milken National Notification Video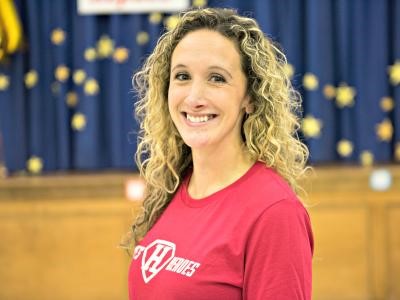 In Nicole Silva's third-grade classroom at Nathan Hale Elementary School in Carteret, New Jersey, students take charge of their own learning. They track their own progress toward goals they set together with Nicole, readjusting the targets monthly based on their mastery and striving to be included on her "Wall of Fame."
Nicole builds an impressive rapport with both general and special needs students. She differentiates lessons to meet the needs of every child, incorporating creative and engaging centers that reach beyond the classroom walls and bring the outside world to Nathan Hale. Students learn about forces of nature and "visit" the solar system via augmented reality with Google Expeditions.
Closer to home, they stage presentations for local veterans' groups. During the last Olympic Games, Nicole built multiple units around an Olympics-themed book in the "Magic Tree House" series. Students researched the original games, comparing them to modern times, wrote newspaper-style articles arguing for the inclusion of women, and created their own Olympics-style games using recycled materials.
Always looking for hands-on activities that connect academics to real life, Nicole set up a miniature basketball hoop during a math lesson; students recorded her statistics and used fractions to represent her score-to-miss ratio.
Nicole incorporates best practices daily in her whole group, small group, peer group and individual instruction. As the third-grade team leader, she reports to administrators on grade level progress and student achievement. Nicole mentors novice teachers and has served on committees addressing curriculum, data, social studies and ELA. She presents at professional development workshop and provides training for teachers throughout the district at planning meetings and workshops. Nicole's students respond in kind to her high expectations, showing some of the highest growth and achievement at the school.
Nicole teaches the whole child and incorporates mindfulness into daily routines. She takes the time to listen to her students and can rattle off each one's favorite TV shows, colors, sports and toys. Nicole teaches students to manage their own frustrations and identify their own stressors. They self-regulate by grabbing a backpack filled with relaxation aids, including putty and water bottles filled with glitter, and heading to the "calm-down corner" to take a break and regroup.
Nicole's classroom is a safe space that provides stability, respect, structure, flexibility, tolerance and acceptance, all vital for students who hail from a variety of cultures, socioeconomic backgrounds and family structures. Nicole builds deep and meaningful relationships with students and families that last long past the end of the school year: Former students visit often to update her on their lives after elementary school.
Nicole earned a bachelor's degree in elementary education from Montclair State University in 2005.