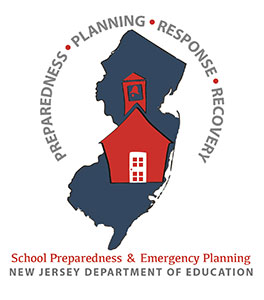 The New Jersey Department of Education takes proactive measures to protect the safety and security of all our students and staff members. Through the Department's Office of School Preparedness & Emergency Planning (OSPEP) the goal is to protect the health, safety, and welfare of the school population by providing direct support to New Jersey's schools in establishing safe and secure school environments and increasing their capacity to respond in the event of crises.
The unit provides support to district and school leaders in assisting with the establishment and maintenance of a school safety and security plan that addresses all hazards and follows the phases of crisis management planning – mitigation, preparedness, response, and recovery. To achieve these goals, the staff of the OSPEP works in conjunction with the New Jersey State Police, New Jersey Domestic Security Preparedness Task Force, and the New Jersey Office of Homeland Security and Preparedness.
Through the OSPEP, the NJDOE is committed to providing information and assistance to both public and nonpublic schools on topics such as: site-specific vulnerability assessments, crisis response, contingency and continuity plans, target hardening, mitigation measures and communication protocols.
K-12 Behavioral Threat Assessment & Management