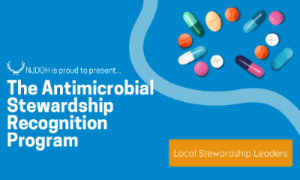 The 2022 application period is now closed.
Healthcare facilities across New Jersey are encouraged to apply for the Antimicrobial Stewardship Recognition Program (ASRP). Through the ASRP, the NJDOH Communicable Disease Service (CDS) has several goals:
Acknowledge our top performers and encourage developing stewardship programs,

Improve visibility of ASPs within their organizations,

Encourage new leaders and find unique initiatives, and

Sustain current emphasis on stewardship in NJ
Have questions? Visit our FAQ.
For additional assistance, please reach out to the Antimicrobial Stewardship DOH emailbox at AbxAware@doh.nj.gov.