The Hazardous Waste Operations and Emergency Response (HAZWOPER) Standard applies to employers whose employees respond, investigate, or clean up hazardous materials. Occupations for which the HAZWOPER Standard most commonly applies include Hazardous Materials (HAZMAT) Response Teams, Fire Departments, Police Departments, employees who conduct environmental investigations at uncontrolled hazardous waste sites, employees who work at facilities that utilize bulk quantities of hazardous materials, and employees who are likely to discover an uncontrolled release.
Employers whose employees have a role in the emergency response to uncontrolled releases of hazardous substances are required to develop and maintain an Emergency Response Plan (ERP). The purpose of the ERP is to protect emergency response personnel. An ERP is not required if the employer does not permit their employees to participate in an emergency response as stated in their emergency action plan (EAP) (29 CFR 1910.38).
Note: The ERP is different from the Emergency Operations Plan (EOP) HAZMAT Annex required by the New Jersey State Police, Office of Emergency Management, Response and Recovery Unit. The purpose of the EOP is to protect the community and the environment.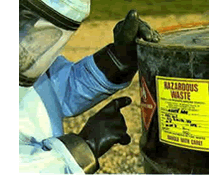 The Standard outlines procedures for managing a coordinated emergency response using the Incident Command System (ICS). p>The HAZWOPER Standard requires that emergency responders (HAZMAT Teams, Fire Departments, and Police Departments) in New Jersey are provided with appropriate training based on their anticipated role in the response. The five levels of training are:
First Responder Awareness Level
First Responder Operations Level (8 hours)
Hazardous Materials Technician (24 hours)
Hazardous Materials Specialist (24 hr Tech +)
On-Scene Incident Commander (8 hr. Ops +)
The Standard also requires that employers ensure that responders are medically fit to meet the physical demands of the job and must provide annual surveillance medical examinations.