Lead Poisoning Prevention Resource Materials
Keep Our Children Safe From Lead!
DMAHS Lead Poisoning Prevention Resource Materials
Welcome to the Division of Medical Assistance and Health Services Lead Poisoning Prevention Resource site. These resources have been created to explain how children ages 6 and younger can get lead poisoning, how it harms a child's health, and what you can do to prevent it.
Lead Poisoning Information Packets

Download these easy to read documents on lead poisoning that are available in multiple languages.

If you don't have Acrobat Reader, it's free, just click the Get Acrobat Reader button.


Lead and Other Environmental Toxins...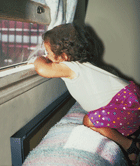 The DHS Office for the Prevention of Developmental Disabilities (OPDD) is charged with educating the public about the preventable causes of disabilities, such as ingesting lead (from paint, toys or other sources) or new chemical toxins in everyday items around the home.



Go to our OPDD Lead Poisoning and Environmental Toxins website for more information about lead and other environmental dangers that can affect newborns and infants during the prenatal, pregnancy, postnatal and early childhood phases of their lives.