Disaster and Terrorism Branch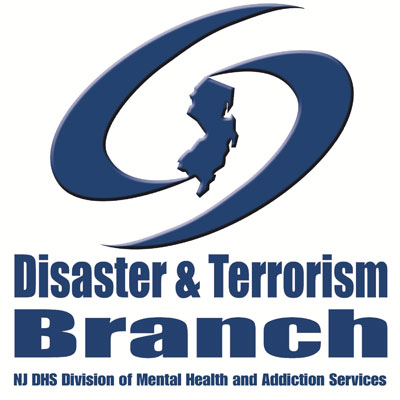 Click here for NJ Hope and Healing Information

The New Jersey Division of Mental Health and Addiction Services (DMHAS) within the New Jersey Department of Human Services (NJDHS) is home to a specialized mental health Disaster and Terrorism Branch located within the Office of the Assistant Commissioner for Mental Health and Addiction Services. The DMHAS Director of the Disaster and Terrorism Branch is responsible for activating the state's mental health disaster response plan in coordination with the NJDHS Emergency Social Services Coordinator and the New Jersey Office of Emergency Management, during a declared disaster. Each New Jersey County also maintains a county-specific all hazards mental health disaster plan. During times of disaster, the county's plan can also be activated by the County Mental Health Administrator in coordination with the County Office of Emergency Management and in collaboration with the state partners.
Services Available
The Division of Mental Health and Addiction Services has over 120 contracted community mental health provider agencies. Over the past several years and especially since September 11, training for these mental health providers as well as private practitioners, has been consistently provided through federal grant programs. In fiscal year 2007 more than 3,500 people received training through DMHAS sponsored training programs. The Disaster and Terrorism Branch is home to a multi-disciplinary Training and Technical Assistance Group (TTAG) which has the capacity to provide on-demand training for mental health professionals in the wake of disaster to further increase the state's capacity to address the psychosocial needs of the community. The services available through the Disaster and Terrorism Branch include:
› Individual crisis counseling
› Psychological first aid
› Disaster-specific psycho-educational information
› Group crisis counseling
› Consultation and training
› Information and referral services
› Toll-free warm line services
The Disaster and Terrorism Branch maintains this website to share relevant information with the public and with mental health professionals, and publishes the e-newsletter, "New Jersey Crisis Counselor". The Branch works in close collaboration with public health, law enforcement, emergency management, and other professionals at the local, state and federal levels to coordinate mitigation, planning, response and recovery efforts. The Branch also actively promotes the participation of mental health professionals in drills, exercises, and ongoing professional development activities. For a more comprehensive overview of New Jersey's disaster mental health system, please click here to view a narrated presentation.