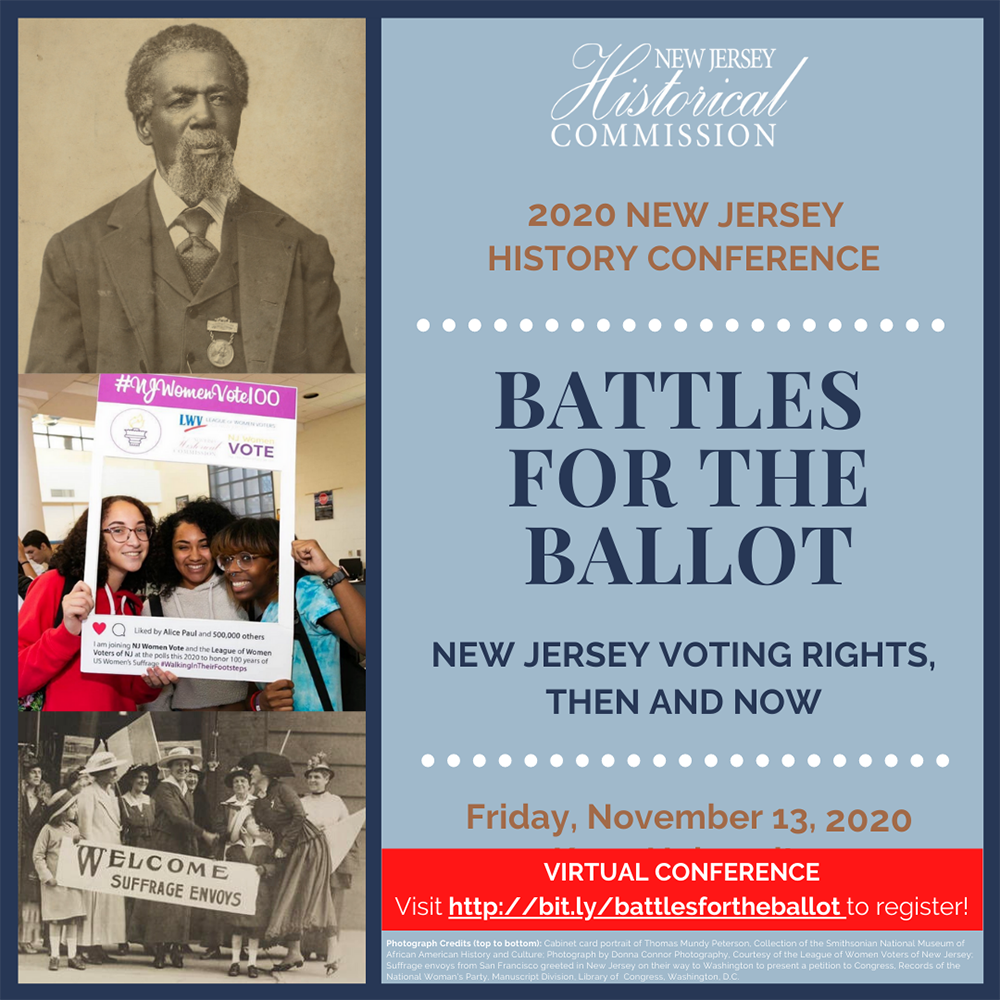 2020 New Jersey History Conference
Battles for the Ballot: New Jersey Voting Rights, Then and Now
Friday, November 13, 2020
Virtual Event
The New Jersey Historical Commission (NJHC) will host the 2020 New Jersey History Conference, Battles for the Ballot: New Jersey Voting Rights, Then and Now, virtually on Friday, November 13, 2020. The history of voting rights and suffrage in New Jersey is one of competing visions of who deserves a voice in American society. For centuries, activists, policymakers, and everyday people have fought to define that vision, especially on the basis of race and gender. As New Jersey marks the 150th anniversary of the 15th Amendment and the 100th anniversary of the 19th Amendment—against the backdrop of a presidential election year and a global pandemic—Battles for the Ballot will explore how the right to vote has changed over time and the meaning of participation and representation in a democracy. Registration is now open.
Click here to view this year's program. The 2020 keynote speakers are:
Ari Berman is a Senior Reporter for Mother Jones, Reporting Fellow at Type Media Center, winner of an Izzy Award for outstanding achievement in independent media, and author of Give Us the Ballot: The Modern Struggle for Voting Rights in America, Herding Donkeys: The Fight to Rebuild the Democratic Party and Reshape American Politics, and the forthcoming Minority Rule.
Ryan P. Haygood is the President & CEO of the New Jersey Institute for Social Justice. A nationally respected civil rights lawyer who has litigated some of the most important civil and voting rights cases of our time, Mr. Haygood leverages his expertise to advance the Institute's work to empower New Jersey's communities of color through criminal justice reform and expanding democracy and economic justice in the Garden State.
Martha S. Jones is the Society of Black Alumni Presidential Professor and Professor of History at Johns Hopkins University. She is a legal and cultural historian whose work examines how Black Americans have shaped the story of American democracy. Professor Jones is the author of Birthright Citizens: A History of Race and Rights in Antebellum America and Vanguard: How Black Women Broke Barriers, Won the Vote, and Fought for Rights for All.
A virtual book signing will follow the keynote panel. To preorder signed books, click here. In some cases, customers will receive signed bookplates separately, to be inserted into the books.
Deadline extended! The conference planning committee is now accepting submissions to the posters and projects session with a new deadline of October 1, 2020. Please see below a link to the call for more information:
Call for Posters and Projects
The 2020 event is co-sponsored by the Alice Paul Institute, NJ Women Vote: The 19th Amendment at 100, the New Jersey State Archives, and New Jersey Digital Highway.