Ofelia Garcia of Jersey City Elected Chair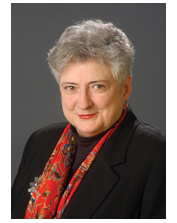 Ofelia Garcia, Chair, NJ
State Council on the Arts
TRENTON, NJ – At its 45th Annual Meeting on July 26 the New Jersey State Council on the Arts elected new officers to lead agency efforts in support of New Jersey's vibrant arts industry. The officers include Ofelia Garcia of Jersey City as chair, Elizabeth Mattson of Green Pond as 1st vice chair, and Germaine Trabert of Westfield as 2nd vice chair. Ms. Garcia replaces Sharon Burton Turner of Montclair who held the post for two terms.
"I am honored to be elected chair by my peers on the Council, and grateful for the opportunity to direct my passion for the arts to the important work of this agency in my new role," remarked Ms. Garcia. "As Council chair, Sharon exemplified remarkable strength, dedication and grace, and I look forward to building on the accomplishments made under her leadership to serve the people of New Jersey."
The New Jersey State Council on the Arts is an agency within the New Jersey Department of State. It receives funding in direct appropriation from the State of New Jersey through a dedicated Hotel/Motel Occupancy fee and grants from the National Endowment for the Arts. Since 1966, its volunteer members and professional staff have worked to improve the quality of life in New Jersey by helping the arts to flourish through a comprehensive roster of programs, services and competitive grants.
The public funds invested through the Arts Council have profound positive impact on communities and individuals statewide. Support for New Jersey's arts industry contributes to quality education, increased health and wellness, stimulates $1.2 billion in economic activity, supports 20,000 businesses, sustains more than 80,000 jobs and returns $41 million in state tax revenue.
For more information about the New Jersey State Council on the Arts, please visit www.artscouncil.nj.gov. To learn about what's happening in the arts across the state, visit www.jerseyarts.com, or call the toll-free hotline 1-800- THE ARTS.
Photo credit: William Paterson University, Office of Public Relations