Yesterday, January 27, 2020, New Jersey Secretary of State Tahesha Way, on behalf of the State of New Jersey, attended the official United Nations ceremony marking 75 years since the liberation of the notorious Auschwitz Birkenau Nazi German concentration and extermination camp on International Holocaust Remembrance Day.
The Secretary, who was accompanied by New Jersey – Israel Commission Executive Director Andrew Gross, joined as guests of the American Jewish Committee and had the opportunity to meet with Holocaust survivors, Jewish and other faith leaders, and diplomats from around the world.
The ceremony took place 75 years to the day of the liberation of Auschwitz by Soviet forces at the end of the Second World War. The program featured United Nations Secretary-General António Guterres, the Permanent Representatives of Germany, Israel, Russia, and the United States to the United Nations, as well as the UN office overseeing matters related to atrocities committed against the Sinti and Roma communities during the Holocaust.
Secretary Way had the opportunity to greet Mr. Shraga Milstein and Ms. Irene Shashar who shared their incredible, inspiring, and heartbreaking testimonies as Holocaust survivors.
At a time when anti-Semitism and hate crimes overall have risen in New Jersey and around the country, the Secretary's visit underscored New Jersey's strong commitment to standing against intolerance and a commitment to remembering the Holocaust – a defining and shameful moment in human history that must never be repeated.
"The power of hearing directly from Holocaust survivors is unforgettable and is a reminder that some of the most horrifying and despicable events in human history occurred only a short time ago in human history. We must ensure that we stand against all forms of hate, including anti-Semitism, to guarantee that when we say 'never again,' we mean it," said Secretary Way.
"I was honored to join Secretary Way for this historic occasion and to reiterate the importance of ensuring the truth and lessons of the Holocaust are shared with future generations. Yesterday's event, which was facilitated in part through Israel's Mission to the United Nations, was a reminder of the strong bond that exists between the people of New Jersey and Israel," said New Jersey – Israel Commission Executive Director Andrew Gross.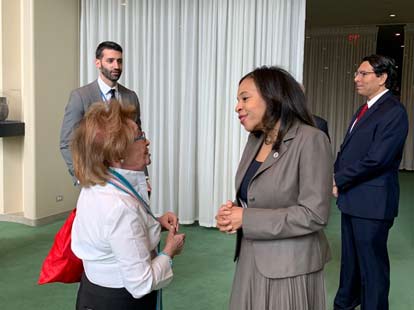 Holocaust survivor Ms. Irene Shashar speaks with Secretary Way