Trenton, N.J. – Acting New Jersey Secretary of State Tahesha Way, as a member of the National Association of Secretaries of State (NASS), is honoring the New Jersey Association of Election Officials (NJAEO) with a NASS Medallion Award. The award allows individual Secretaries of State to recognize outstanding service and dedication to furthering the mission of NASS within the states.
NASS Medallions are awarded to individuals, groups, or organizations with an established record of promoting the goals of NASS across one or more of the following areas:
Elections, with special emphasis on voter education and participation
Civic education, including the teaching, promotion and study of this subject
Service to state government, specifically as it relates to the duties of the office of the Secretary of State
A commitment to giving – a business or individual whose philanthropic contributions have significantly enhanced the quality of life in a local or regional area within a state, or within an entire state
The NJAEO, an organization comprised of New Jersey's County Superintendents of Elections and County Boards of Elections, supports its members as they perform their duties: providing the voters of their county with the necessary resources to properly cast their vote for the candidate of their choice in a safe, secure environment while observing their right of confidentiality and protecting their right of suffrage. For the past two years, the members of the NJAEO have gone above and beyond in their efforts to ensure that all eligible voters could participate in democracy despite the ongoing impact of a global pandemic.
"It is a privilege to work alongside New Jersey's tremendous county election officials," said Acting Secretary of State Tahesha Way. "They tirelessly serve on the front lines of our democracy and truly rose to the occasion during these unprecedented times. It is my distinct honor to recognize the members of the New Jersey Association of Election Officials with the NASS Medallion Award for their unparalleled record of service to our elections."
"New Jersey's election officials work diligently to support the needs of our voters and secure our democracy," said Atlantic County Superintendent of Elections Maureen Bugdon, who serves as President of the NJAEO. "We are grateful for Secretary Way's partnership in this work and honored that she has chosen to recognize us with this NASS Medallion Award."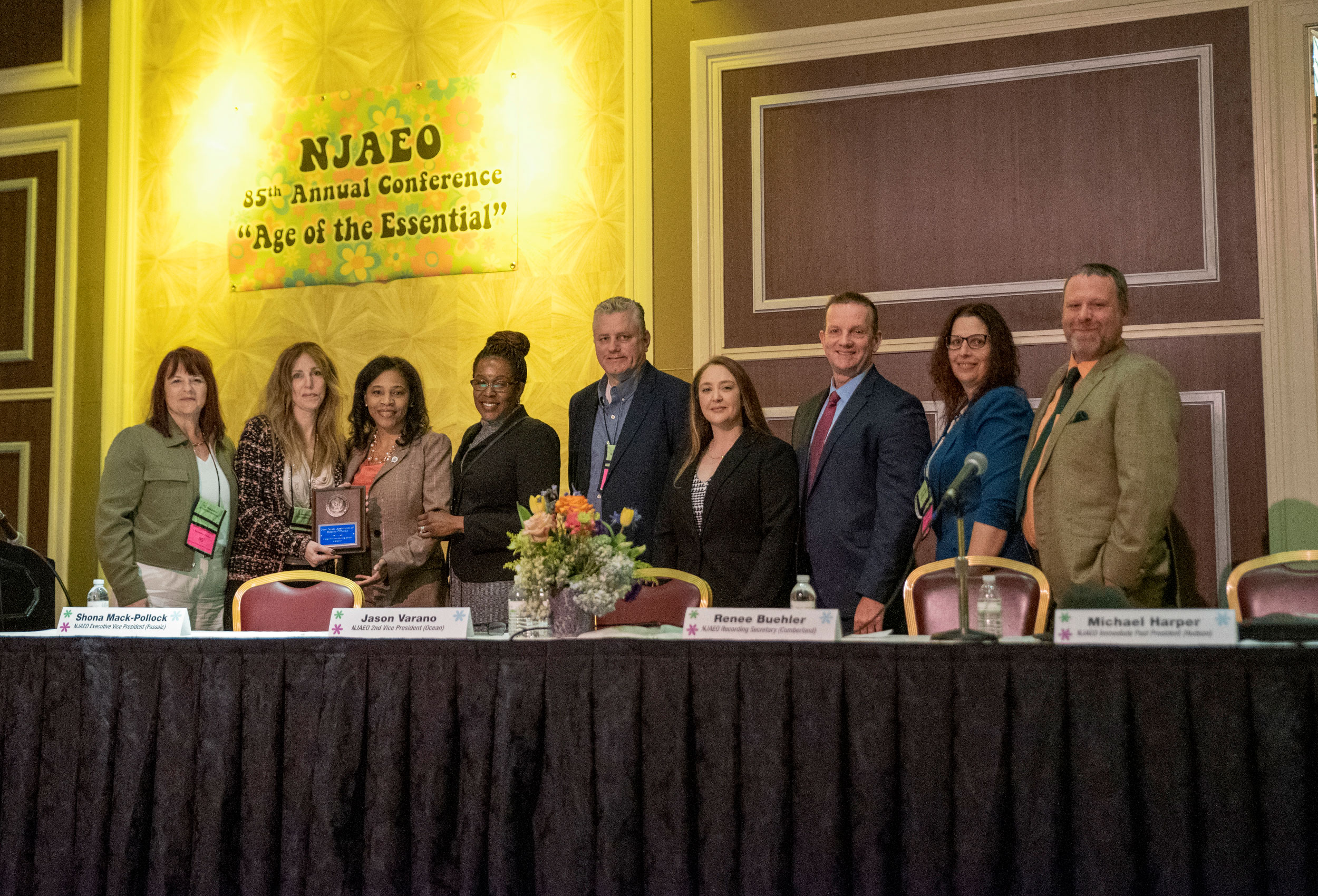 Secretary Way presents NASS Medallion to NJAEO Executive Board at the Annual NJAEO Conference- April 12, 2022