The meeting was held during Minister Razvozov's first official visit to the United States and paves the way for more tourism opportunities to grow the already strong New Jersey-Israel tourism market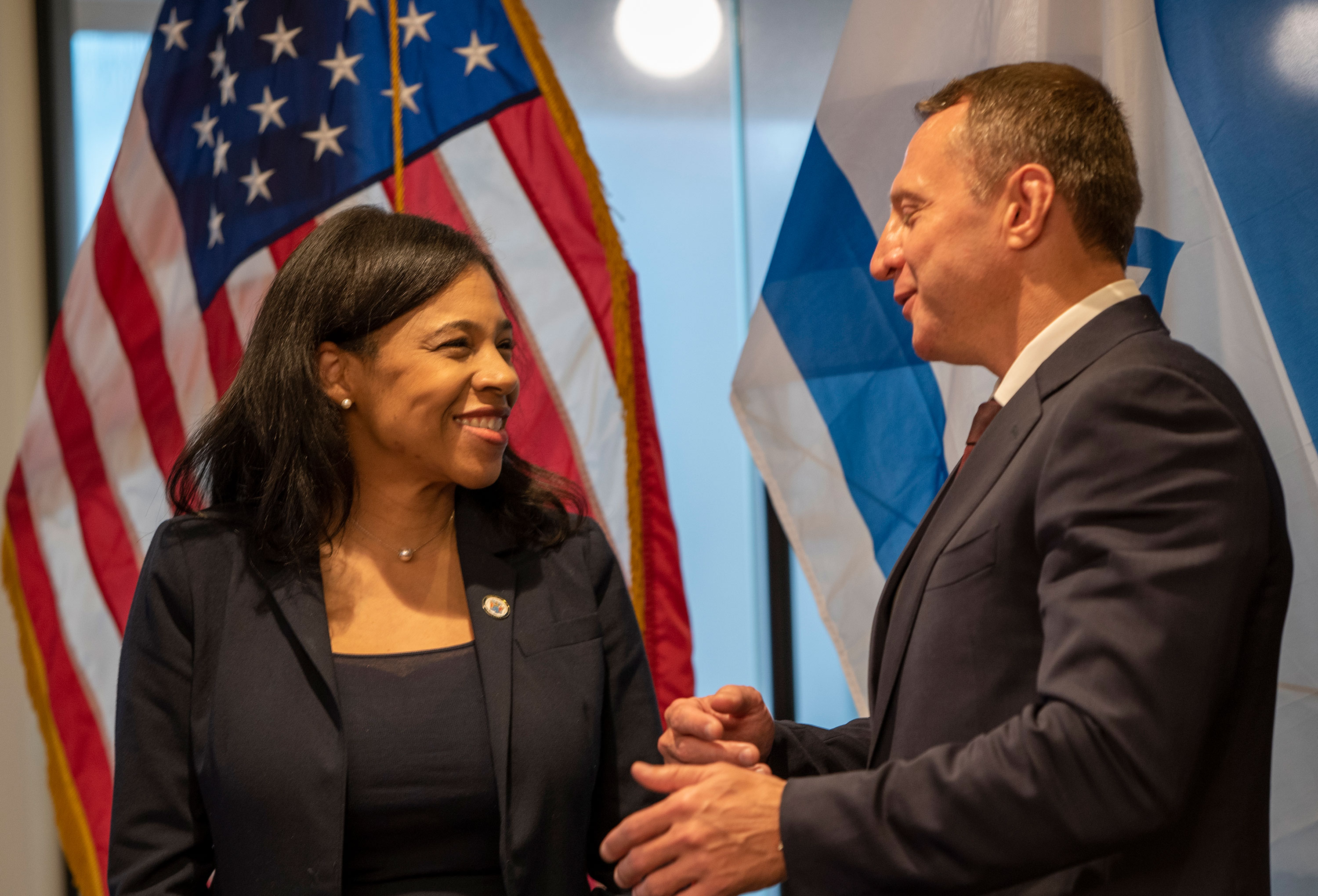 Photo credit: New Jersey Office of Information Technology
TRENTON, NJ – During his first official visit to the United States, H.E. Yoel Razvozov, Israeli Minister of Tourism, visited Newark, New Jersey for a meeting with New Jersey Acting Secretary of State Tahesha Way to discuss enhanced bilateral travel cooperation between these two major markets. The meeting reflected the spirit of friendship that embodies the New Jersey-Israel relationship and the opportunities it continues to drive in both regions.
New Jersey and Israel stand as key international travel partners with highly interconnected communities and substantial business travel that is fueling continued economic growth and deepening ties. Daily direct flights between Newark and Tel Aviv, serviced by United Airlines and El Al Airlines, are facilitating a feeling of closeness, accelerating tourism between the regions, and driving business relations that support two world class innovation economies.
In 2019, the record year for tourism both to Israel and globally, New Jersey and Israel enjoyed nearly 660,000 combined departures and arrivals between Tel Aviv Ben Gurion International Airport and Newark Liberty International Airport. This included 215,000 Israeli national arrivals and departures as well as 444,000 American arrivals and departures, an overwhelming representation of the profoundly deep ties between the people of New Jersey and the people of Israel.
The Minister's visit to New Jersey was coordinated by the New Jersey-Israel Commission and supported by the New Jersey Division of Travel and Tourism and the Israel Government Tourist Office to the United States. It comes at a key time following a global return to international travel stemming from the COVID-19 pandemic, including both in the United States and Israel. Additionally, the discussion highlighted the importance travel and tourism have had on New Jersey and Israel's $1.55B bilateral trade relationship, fueled by new academic partnerships and increasing business relations.
During their meeting, Secretary Way and Minister Razvozov discussed ways to enhance bilateral tourism including increased dialogue between travel officials, enhanced business connectivity, exploration of new partnerships, the attraction of major conferences, and engagement with key influencers.
Secretary Way highlighted New Jersey's exciting tourism destinations and extended an invitation to Minister Razvozov and all Israelis to spend more time visiting the state. The Minister reciprocated, welcoming the Secretary and New Jerseyans to see Israel including its renowned cultural and historic sites.
"I was extremely pleased and appreciative to host Minister Razvozov today and highlight New Jersey's unparalleled value to the Israeli travel industry," said Acting New Jersey Secretary of State Tahesha Way. "In my capacity overseeing our state's travel and tourism industry, I will ensure that New Jersey continues to welcome Israelis here with open arms, whether they are visiting family, conducting business, or simply enjoying our beautiful state."
"The friendship and partnership between the states of Israel and New Jersey were strongly demonstrated in my meeting with Secretary Way," said H.E. Yoel Razvozov, Minister of Tourism of the State of Israel. "I am extremely happy to have had the opportunity to discuss and explore the ways in which we can deepen the tourism ties between us, and allow both the people of New Jersey and Israel to enjoy the beauty, experience and hospitality both states offer. I want to extend my warmest welcome to New Jerseyans to visit Israel for an experience of a lifetime."
"With so much potential for mutual promotion of tourism between New Jersey and Israel, in so many verticals, it was critical for us to include this meeting in the Minister's first visit to the US," said Eyal Carlin, Israel Tourism Commissioner to the United States. "We are excited to move forward in full force and create substantial initiatives to boost tourism, flights, and all related ties."
"We are honored and proud to support this critical mission to further develop tourism between our countries, while enhancing the solid ties that already connect our great state to Israel with the support of our outstanding partners from the Israel Ministry of Tourism and the New Jersey-Israel Commission," said New Jersey Division of Travel and Tourism Executive Director Jeff Vasser. "The Garden State has always been a global example of friendship, family and good will. This new, focused initiative only strengthens our shared, deep appreciation of hospitality and neighborliness, as New Jersey continues to be one of the top destinations worldwide in welcoming visitors from Israel."
"This meeting proves once again that New Jersey and Israel have never been closer," said Karin Elkis, Co-Chair, New Jersey-Israel Commission. "I applaud the Minister of Tourism for visiting New Jersey and sending a strong signal globally of the critical importance our market has not only for Israel, but the US-Israel relationship at large."
"Now that the world has returned to global travel it is time to kick into high gear and do everything we can to facilitate increased connectivity between our communities here and in Israel," said Mark S. Levenson, Co-Chair, New Jersey-Israel Commission. "No doubt our focus on increasing tourism will bring strong economic returns that will especially benefit New Jersey and those who wish to enjoy both the Garden State and the Holy Land."
"I am extremely proud that New Jersey remains a key gateway to Israelis entering the United States and New Jersey residents who wish to visit our friends in Israel," said Andrew H Gross, Executive Director of the New Jersey-Israel Commission. "The planes taking off and landing between Tel Aviv and Newark are more than symbols, and we will continue to work closely with our partners to ensure this joint tourism and travel continue to flourish and benefit our region."
About the Israeli Ministry of Tourism
The Israel Ministry of Tourism (IMOT), is Israel's national tourism agency responsible for planning and implementing marketing and promotional initiatives to position Israel as a preferred travel destination. IMOT aims to increase tourism traffic to contribute to Israel's economy, and to enhance and diversify the visiting experience. IMOT works to promote Israel's impressive assortment of historical, cultural, culinary and religious attractions – each the perfect blend of tradition and modernity. IMOT offices in North America are located in New York, Los Angeles, Atlanta, Chicago and Toronto.
www.israel.travel
Twitter: @IsraelTourism
Facebook: @GoIsrael
Instagram: @Visit_Israel
About the New Jersey Division of Travel and Tourism
The Division of Travel and Tourism successfully supports and markets New Jersey's $44.7 billion tourism industry through its unique marketing, advertising and promotional campaigns. In addition to its promotional activities, the Division strongly supports the industry and maintains vital partnerships with tourism members and Destination Marketing Organizations throughout New Jersey.
https://visitnj.org/
Twitter: @Visit_NJ
Facebook: @VisitNewJersey
Instagram: @Visit_NJ
About the New Jersey-Israel Commission
The New Jersey-Israel Commission was established in 1989 to implement the goals of the New Jersey-Israel Sister State Agreement and is under the administration of New Jersey Department of State. The Commission promotes the development of trade, culture and educational exchanges; encourages the development of capital investment and joint business ventures; and fosters a spirit of cooperation between the citizens of the State of Israel and the State of New Jersey.
nj.gov/state/njic.shtml
Twitter: @NewJerseyIsrael