Well Search Guidance:
Available On-Line Tools for Receptor Evaluations & Biennial Certifications for Groundwater
A new Dataminer report called "XY Well Search" is now available.
This report takes the place of the previously offered reports1 "Well Search for
CEA Biennial Certification By Atlas Grids", "Well Search for CEA Biennial Certification
By Municipality" and "Find Wells By X and Y state plane coordinates". Please read
the "Well Search E-Tools Instructions" at https://www.nj.gov/dep/srp/gis for tips on
use of this report and its companion, the "Well Search Spreadsheet, found at
https://www.nj.gov/dep/srp/srra/forms/well_search.xls.
Under the Technical Requirements for Site Remediation Rule (N.J.A.C. 7:26E), responsible entities are required to perform and update receptor well searches when contaminated groundwater is present.

• Initial well search: within 90 days of groundwater contamination discovery.
• Update well searches in conjunction with key phases of site remediation.
• Update well searches biennially for sites with classification exception areas.

Process Summary:
Identify potential receptor wells within ½ mile of groundwater contamination points and identify high pumpage [Allocation Diversion] wells within 1 mile of same. Primary means to identify wells within ½ mile is via the above noted dataminer report and the primary means to identify wells within 1 mile is via request of a Computer Radius as noted below 2. Using various on-line data and GIS procedures, expedite the search by reducing the number of wells under consideration based on distance, drilling date, type and groundwater flow direction. Note that location and other data for most wells drilled prior to 2008 need to be refined by a review of permit and well construction records. To get these records, a request for the reduced number of specific well permit numbers and a 1 mile radius Water Allocation Diversion search is submitted to the Bureau of Water Systems and Well Permitting via email. The well data is then refined and canvassing for possible sampling may then occur. At this point, any permits numbers which are found in both the Dataminer search and the Water Allocation Diversion search should be merged by transferring the Allocation Diversion data [location, depth, etc]. A Well Search Spreadsheet is then completed and submitted to NJDEP with appropriate Form at https://www.nj.gov/dep/srp/srra/forms and GIS deliverables sent to srpgis_wrs@dep.nj.gov. Additional instruction for this process is explained in the "Well Search E-Tools Instructions" at https://www.nj.gov/dep/srp/gis.
Updates and Biennial Certifications:
Sites with CEAs or needing updates to previous searches may find that the dataminer report shows no additional potential receptors wells were installed since the last search. A method found in the "Well Search E-Tools Instructions" should be done to confirm that the report result is correct, but in such a cases no additional investigation of well receptors is necessary to complete that receptor evaluation. The Well Search Spreadsheet submission for that effort would indicate that no new wells were found.
1 These reports were found on the web page "CEA Biennial Certification Compliance: Tools for Performing Well Searches for CEA Biennial Certifications" which has been replaced by this page.
2 Some industrial and other high pumpage wells within 1 mile will not be found in the Allocation Diversion search because their pumpage is under the permitting threshold. These wells can only be found via the Dataminer search.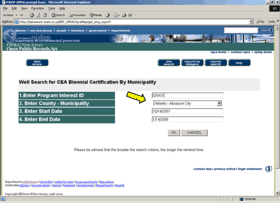 Related Links