About ICAR
The New Jersey Department of Health, Communicable Disease Service (CDS) was awarded funds by the U.S. Centers for Disease Control and Prevention (CDC) as part of a three-year nationwide program to reduce healthcare associated infections (HAIs). With this cooperative agreement, CDS established the Infection Control Assessment and Response (ICAR) team to assist healthcare facilities(HCFs) in reducing the number of HAIs by assessing their infection prevention programs, providing educational resources, and sharing best practices.
The ICAR team is comprised of epidemiologists and infection preventionists specializing in the prevention of HAIs. This team will assess a variety of patient care facilities including acute care, long term care, hemodialysis, and other outpatient settings.
ICAR Assessments
The ICAR team is currently seeking HCFs of all types to participate in a non-regulatory assessment of their infection prevention program and practices. The ICAR team will not share individual assessment documentation with the Division of Health Facility Survey & Field Operations unless an egregious violation is observed. The visit is a collaboration between the ICAR team, local health department, and your facility team members to improve infection prevention practices. Your participation will make invaluable contributions towards the health and safety of the residents of New Jersey.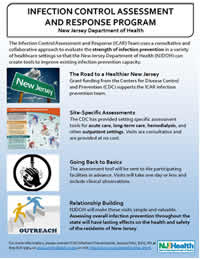 During the visit, ICAR team will:
Provide infection prevention self-assessment tools and resources to HCFs
Facilitate discussions with facility leadership to assess infection prevention practices and program activities using CDC's standardized tool
Detect infection prevention gaps through on-site observations
Share best practices identified nationally and locally
Bolster outbreak response and reporting preparedness
Coordinate a post-assessment follow-up to provide additional resources
Facilities interested in assessing their infection prevention programs and partnering with the ICAR team can contact ICAR Team Lead, Infection Preventionist, Jessica Arias, BSN, RN, CIC at 609-826-5964 or Jessica.Arias@doh.nj.gov for more information.
For questions or concerns regarding the ICAR initiative or any other healthcare associated infections program please contact Healthcare Associated Infections Coordinator, Jason Mehr, MPH, CIC at 609-826-5964 or Jason.Mehr@doh.nj.gov.
The general guide to an ICAR assessment
Please direct any further questions to ICAR Team Lead, Infection Preventionist, Jessica Arias, BSN, RN, CIC at 609-826-5964 or to the team email at CDS.ICAR@doh.nj.gov for more information.