Pre-Conservation Photo-Documentation:The following nine photographs show representative documents and illustrate the types of damage to be addressed by the conservator.
Click on an images for an enlarged view.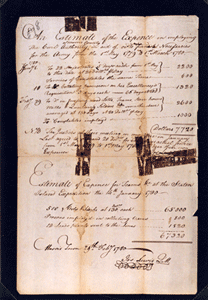 Adjutant General's Manuscript #5389
Estimate of Expenses of Quartermaster Joseph Lewis, Morristown, 29 February 1780


This expense account by Morris County authorities lists services and supplies provided to Gen. George Washington and the Continental Army during their encampment at Morristown. Also included are charges for sleds, sleighs and horses used in the January 1780 Staten Island Expedition, in which Gen. William Alexander led his troops across the frozen Arthur Kill to challenge the British in the enemy stronghold of New York.

NOTE: Damage includes discoloration, water staining, residue staining and acidification from adhesive tape, edge tears, and weakness along the fold lines.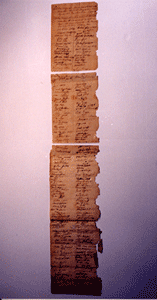 Oath of Allegiance and Abjuration, July 1777


Prescribed by law on 19 September 1776, oaths of allegiance and abjuration were required of civil and military officers as well as those whose support of independence was questioned by the Council of Safety. The oaths read: "I do sincerely profess and swear [or affirm] that I do and will bear true Faith and Allegiance to the Government established in this State, under the Authority of the People ... I do sincerely profess and swear [or affirm] that I do not hold myself bound to bear allegiance to the King of Great Britain. So help me God." This example includes over 160 signatures of men whose loyalty was investigated by the Council of Safety.

NOTE: Damage includes fragmentation of the document, tears, fraying and rodent damage along the right edge, and discoloration.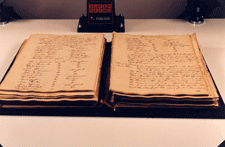 Burlington County Court of General Quarter Sessions Minutes, 1775-1787
Charges of treason, sedition and rioting were brought before New Jersey's criminal courts as authority transitioned from the crown to the state. This Quarter Sessions minute book from southern New Jersey's most populous county contains countless war-related cases. For example, in August 1778 the state held an inquisition into the loyalty of wealthy landholder Daniel Cox, alleging that the defendant had "broken his Allegiance to this State."

NOTE: Damage includes a completely fragmented and disconnected text block, and many pages with bent or weakened corners and torn or frayed edges.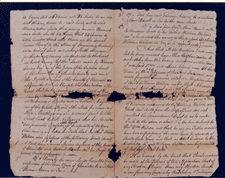 Claim of William Watson of Woolwich, Gloucester County, filed 1786


In his testimony to re-establish legal title to his property, William Watson recalls the wartime chaos that resulted in the loss of his family's papers. He recounts that the documents were lost "by being removed from Place to place in order to secure them from the Enemy sometime in the year of our Lord 1777 and which Enemy were at that time in the Possession of the River Delaware and made frequent Incursions into the Neighborhood of this William Watson …"

NOTE: Damage includes tears, fragmentation, paper losses and discoloration at the fold lines, fraying and tears at the edges of the document, creases and wrinkles.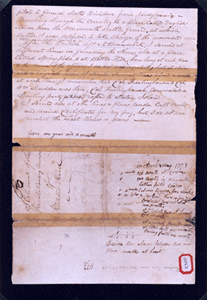 Adjutant General's Manuscript #11052
Statement of the Revolutionary Services of Richard Reid, ca. 1780


In this statement, Richard Reid attests to his activities at the Battle of Monmouth: "I again served in June of this year [1778] in the Company of Capt. J. Combs Stationed at Crosswick Creek, near Bordentown; we here acted as the vanguard or as pilots to General Scotts Division from Pennsylvania, Marching through the country to a place called Englishtown near the Monmouth Battle Ground at which Battle I was detailed to take charge of the wounded and such duties as might be required of me."

NOTE: Damage includes tears, acidification and discoloration from adhesives and glassine strips, water staining, and weakened or separated paper at the fold lines.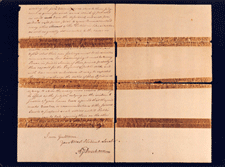 P
etitions to the Legislature
Petition of Azariah Dunham, 8 November 1780


This petition records a plea to the Governor and General Assembly of New Jersey from Azariah Dunham, Commissary of Military Stores for State Troops. Dunham complains that after faithfully gathering supplies for "his excellency General Washington's requisitions," he was now being personally sued for the money due to contractors for these materials. He asks the Governor and House to "think how discouraging it must be to every Person in public Service if their private property is thus exposed for the Payment of public debts and with how much reluctance it may be expected they will discharge the duties of their Offices in so precarious a situation."

NOTE: Damage includes discoloration, staining, acidification and residue from adhesive tape, brittle paper and complete separation of sections at the fold lines, fraying and paper losses along the edges.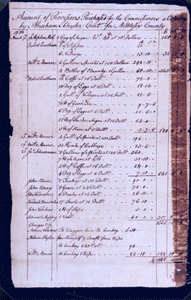 Adjutant General's Manuscript #7825
Account of Provisions Purchased by Abraham Schuyler, 7 March 1780


The Continental Army required a variety of supplies to wage the war for independence. This account lists provisions secured by Abraham Schuyler, contractor for Middlesex County, including: sugar, pepper, nutmeg, coffee, green tea, eggs, turkeys, geese, ducks, cabbage, and a considerable quantity of brandy, "spirits" and hops.

NOTE: Damage includes discoloration, adhesive tape and related acidification, residue and staining, weakened paper at the fold lines, and frayed and torn edges.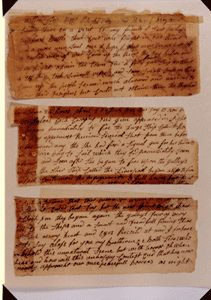 Commissary General's Records
Account of Naval Battle at Red Bank on the Delaware River, 8 May 1776


This statement by D. Humphrys provides an eye-witness account of one of the first naval engagements in the war, between American galleys and British warships H.M.S. Roebuck and H.M.S. Liverpool: "the galleys drew up very Close to the Ships and a Smart dreadful firing there was such as my heart and eyes Recoild at and I forbore not to say alas for you my Bretheren on Both sides who Can behold this unnatural Scene but with horror oh when where and how will this unhappy Contest End ..." Fortunately, an early trans- cription of this document was made by the Adjutant General's Office, preserving the text.

NOTE: Damage includes fragmentation and paper losses, discoloration, staining and embrittling from adhesive tape, glassine-strip repair, weakened paper and frayed edges.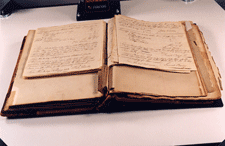 Revolutionary War Damage Claims
Damages by the Americans in Bergen, Burlington, Hunterdon, Morris and
Somerset Counties, 1776-1782


This volume is one of seven produced at the end of the war to document damages to property caused by both the American and British troops. The book is opened to the claim and inventory of Isaac Gould of Morris County, who reported that twelve yards of linen, one bee hive and three sheep were taken from his farm by soldiers of the Continental Army. He reports that he found the hides of the sheep "a distance from his barn in the way towards their Encampment." Many of the inventories provide details of foraging and pillaging that occurred in conjunction with engagements between the two armies, or near military encampments.

NOTE: This volume is made up of various sized booklets bound together. Damage is extensive, though only partly visible here: the paper is brittle, weakened and discolored throughout; the text blocks are loose or completely separated. Many pages are torn and/or frayed along the edges.