Search the Collections
The State Archives has a dual statutory mission: first, to preserve and protect New Jersey's public records; and second, to facilitate access to them by the public. We are dedicated to producing databases, expanding catalog information and finding aids, and posting images of our documents online as resources and policy allow. We are pleased to provide you with several options below to help you search, peruse, and view our rich holdings.
Genealogical Collections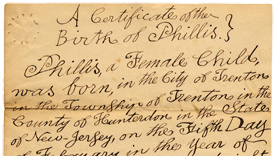 The State Archives holds many collections that are vital to genealogists with ancestors in New Jersey. These include birth, marriage, and death records, censuses, tax lists, land and probate records, military service and pension documents, court cases, county filings, and much more. Please see our Overview of Genealogical Collections.
Searchable Databases and Records Request Forms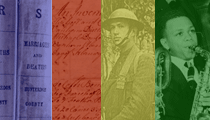 Our searchable databases provide access to over 2,300,000 database entries, indexing over 1,500,000 documents and photographs. Archives staff add and edit database entries daily. You can also order searches of certain records not indexed by databases. See a listing of our searchable databases and online records request forms.
Catalog
Our new, searchable catalog represents an on-going effort to provide greater access to our collections. Researchers may search using free text, and/or filter by assigned subject headings, government departments/agencies, date range, etc. The most recent description of the collection, available box/folder/reel lists, finding aids, and other resources are attached or linked to each record series. Note that any catalog of holdings is a work in progress. Remember that entries are subject to change and new collections/accessions, descriptions, inventories, and guides will be added regularly.
Our browsable catalog contains nearly 200 pre-established searches of our holdings. Included are lists by record group (e.g., department of state government, county, or municipality) and by subject (e.g., Civil War, railroads, etc.). The "Genealogical Holdings" and "Other Research Topics" links provide additional subject access to these pages. Over 1,000 guides to collections are linked to these catalog entries. Note that the searchable catalog is a more current representation of our holdings.
Please note, if you plan to visit the State Archives, that our Manuscript Reading Room is open for retrieval and use of original records from 1:00 to 4:15 p.m. only. Microfilm and book collections are available from 8:30 a.m. to 4:15 p.m.


Imaged Collections
Over 7,100 images from our photograph and manuscript collections are presented in our Imaged Collections and Documentary Treasures areas. Consult the Guide to Reproduction and Research Services, Policies and Fees [pdf] if you are interested in ordering copies.