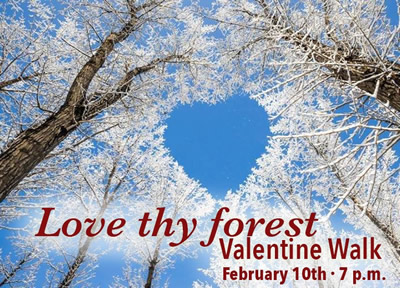 Love Thy Forest Valentine – Full Moon Walk
February 10, 2017
7:00 – 8:30 p.m.

Join us at the Forest Resource Education Center for a full moon walk amongst the trees followed by hot chocolate at the interpretive center. This walk is co-sponsored by the Jackson Pathfinders. Several walking options will be provided; a more vigorous hike for those who would like to walk briskly on the moonlit trails within the forest and a slower paced, guided interpretive tour during which our naturalists will talk about our forest's beautiful features. With Valentine's Day just a few days later, join us to share your love for our healthy forest. This event is free. The walks will be approximately an hour or so; please dress for the weather.
Registration is required by calling (732) 928-2360. Please provide name, phone number and the number of people, so that we can contact you in case of inclement weather and/or cancellation.
Second Saturdays
The Forest Resource Education Center is open to the public on the second Saturday of each month.
Take a hike on the trails and visit the display area in the interpretive center to learn about wildfires, trees in our neighborhoods, the history of forestry in New Jersey, and common forest pests.
Stay for a guided hike 1:00 - 2:00 pm
No registration required
For large groups or scouts troops, please call to schedule your own individualized hike during a different time of the day.