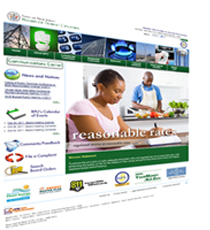 Welcome to the New Jersey Board of Public Utilities new and improved public website. This new website was designed to improve our visitors experience and ability to quickly and easily locate desired information. Both residential and commercial users will find the new website is easier to navigate and contains essential information in a clear and concise format.
Users now can easily find:
News and Notices upfront on the main page,
Information on assistance programs,
A Calendar of Events,
How to file a complaint on the web,
A feedback & comments section,
Board Orders are available through both a detailed search engine as well as the current year's agenda dates.
The BPU is working towards increased functionality of its website to soon include e-filing capability.