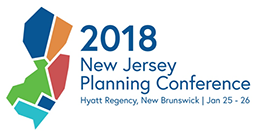 With over 50 sessions, 200 speakers, and 700 attendees, the annual New Jersey Planning Conference is the largest land use conference in the state. Co-hosted by the American Planning Association – New Jersey Chapter and the Edward J. Bloustein School of Planning and Public Policy, the conference aims to educate and empower planners and other land use professionals, elected and appointed officials, and citizen activists on ways to advance the art and science of good planning — physical, economic and social — to create communities that offer better and more equitable choices for how people live, work and play.
Conference Session:
Ecological Solutions to Coastal Hazards –
An All-Inclusive Approach
What happens when engineers, planners, ecologists and educators all collaborate in one project? Great things! Learn how this impressive group of over 20 partner organizations worked with local governments, fellow professionals, schools and concerned citizens to promote ecological solutions to coastal hazards. Session speakers will present the achievements and lessons learned during this multi-disciplinary project, including the creation of a guide for understanding and protecting NJ's coastal ecosystems; facilitated municipal hazard vulnerability assessments; local government pilot projects for habitat restoration; shoreline stabilization and flood mitigations; monitoring of wetland health and restoration techniques; a new citizen scientists monitoring program; and a new high school curriculum module for student ecological projects and monitoring.
This session on the NFWF grant "Building Ecological Solutions to Coastal Community Hazards" will provide planners with new tools and resources they need to address hazards facing New Jersey's coastal communities. These tools and multi-disciplinary collaborations are also applicable to inland communities and storm hazards. The project efforts strongly advance resiliency planning and provide guidance and assistance on ecological solutions at its most critical level -local communities.
This project received the 2017 APA NJ Excellence in Planning Award [pdf] for Community Outreach and Education for an initiative that has resulted in significant advancement of community comprehension of planning issues.
Elizabeth Semple, NJ DEP Office of Coastal and Land Use Planning
Introduction to NJ DEP Office of Coastal and Land Use Planning and NFWF Ecological Solutions [pdf]
Linda Weber AICP PP, Sustainable Jersey
Technical Assistance - Coastal Vulnerability Assessments [pdf]
Robin L. Murray FAIA PP LEED AP BD+C , NJ DEP Office of Coastal and Land Use Planning
The Guide and Municipal Ecological Projects [pdf]
Angela Padeletti, Partnership for the Delaware Estuary
Professional Project Monitoring and Citizen Science [pdf]
Tanya Oznowich, NJDEP Office of Communications
Educational Outreach, Curriculum and Projects [pdf]