New Jersey Coastal Data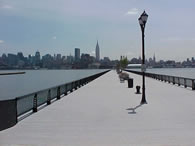 Coastal data are important for land use managers, planners, emergency management personnel, municipal officials and property owners alike. A number of agencies actively collect and maintain coastal data, and produce maps that can be very informative and useful to many people. The New Jersey Coastal Management Program seeks to increase awareness of, and facilitate access to these data. This page is provided as a descriptive reference of access links for a variety of New Jersey coastal maps and data. For a more extensive listing of Internet sites that provide coastal information, please click "Coastal Links" on the toolbar above.
GENERAL ENVIRONMENTAL DATA
Extensive environmental data are available as digital coverage in the Department's Geographic Information System (GIS) database: www.nj.us/dep/gis. This information includes land use and land cover, soils, slopes, wetlands, lakes, streams, tidelands, geology, watershed locations and boundaries, 1995-1997 color infrared digital imagery and much more. Hard copies of various maps and environmental reports can also be obtained from the Department's Maps and Publications Office: www.nj.gov/dep/njgs/pricelst.
HISTORICAL SHORELINE AND BATHYMETRIC DATA
Historical shoreline maps can be used to evaluate changes over time and predict areas of future shoreline change. The Department has produced map data showing historical shoreline changes along the Atlantic Ocean and Delaware Bay, dating back to the mid-1800's. These data are available as a digital data layer ("HISTSHORE" coverage) via the DEP GIS program: www.nj.gov/dep/gis. Hard copies of these maps are available for review at the Department's Land Use Regulation Program office: www.nj.gov/dep/landuse. Copies of historical inlet bathymetry maps are also available for review at the Land Use Regulation Program office, by appointment. The National Oceanic and Atmospheric Administration, Coastal Services Center also maintains digital shoreline data for the United States: www.csc.noaa.gov.
HISTORICAL SURVEYS, MAPS AND AERIAL PHOTOGRAPHY
The Department maintains a library of current and historical surveys, maps and aerial photography for use in operating the Tidelands Management Program. Information about aerial photography coverage and flight dates can be obtained from the Tidelands Management Program: www.nj.gov/dep/landuse/tl_main.html. Additional maps and aerial photography are available from the United States Geological Survey, Geospatial Data and Aerial Photography Division: www.usgs.gov/ngpo/index.html.
TIDELANDS MAPS AND ORTHOPHOTOS
The Department maintains copies of orthophotographs and claims overlays showing the limits of the State claims to areas now or formerly flowed by the mean high tide (tidelands), as well as copies of all Tidelands grants, leases and licenses. These Tidelands maps and photographs can be obtained from the Department's Tidelands Management Program: www.nj.gov/dep/landuse/tl_main.html. The Tidelands orthophoto maps and claims overlays are also available for review in each county clerk's office for that respective county and at the Tidelands Management Program office in Trenton, by appointment.
WETLAND MAPS
The Wetlands Act of 1970 required coastal wetlands to be delineated and mapped. Wetlands permits are required for all activities in the mapped wetland areas. Aerial photographic mapping provides an upper wetlands boundary line. A listing of all map numbers included in this determination are provided at N.J.A.C. 7:7-2.2 of the Coastal Permit Program Rules. Copies of these maps are available for viewing at the Division of Land Use Regulation office in Trenton by filling out an Open Public Records Act (OPRA) request.
There is also a Web Map Service (WMS) for the 1970 Coastal Wetlands basemaps where you can obtain georeferenced digital copies. (You will need GIS or GIS compatable software to utilize this service. There are free alternatives.) Please see the New Jersey Geographic Information Network Orthoimagery WMS for more information.
If unmapped coastal wetland vegetation exists upland of the mapped upper wetlands boundary or there is no official map for the property, then the wetlands area is regulated under the Freshwater Wetlands rules.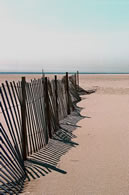 BEACH PROFILE DATA
Through a contract with the Richard Stockton College Coastal Research Center, the Department obtains dune, beach and nearshore profile data at 120 locations along the New Jersey shore in the spring and fall of each year. The New Jersey Beach Profile Network (NJBPN) monitoring locations extend from Aberdeen on Raritan Bay in the north, down to Cape May Point at the south, and around into Delaware Bay up to Reeds Beach. These survey data include cross-sectional profiles and quantitative measurements of volumetric changes along the profiles over time, dating back to 1986. Data is available from the Stockton Coastal Research Center: intraweb.stockton.edu/eyos/page.cfm?siteID=149&pageID=4.
REAL TIME COASTAL DATA
Rutgers University's Institute for Marine and Coastal Science (IMCS) also maintains an oceanographic and meteorological data collection system known as LEO-15 (Long-term Ecosystem Observatory at 15 meter depth). Access real-time and archived information, including satellite imagery, buoy tracking data, currents and other underwater data at: marine.rutgers.edu/cool.Stevens Institute of Technology maintains the Coastal Monitoring Network (CMN) at three locations along the New Jersey oceanfront: Belmar, Long Beach Township and Avalon. Automated stations collect and disseminate real time oceanographic and meteorological information including wave height and period, mean water level, water temperature, wind speed and direction, barometric pressure, air temperature and digital imagery of the beach. Access these real time data from the Stevens Institute, Davidson Laboratory website: www.stevens.edu/ses.
RECREATIONAL BEACH WATER QUALITY
The Department administers the Cooperative Coastal Monitoring Program with the New Jersey Department of Health and Senior Services and local environmental health agencies. Recreational beach water quality monitoring during the summer season is performed routinely on Mondays and throughout the week, as necessary, at 184 ocean monitoring stations. View this monitoring information: www.njbeaches.org.
NAUTICAL CHARTS, BATHYMETRIC AND HYDROGRAPHIC SURVEYS
The National Oceanic and Atmospheric Administration, National Ocean Service, Office of Coast Survey maintains recent and historical nautical charts for all United States waters. Access these data and other information regarding bathymetric and hydrographic surveys at: www.nauticalcharts.noaa.gov/staff/chartspubs.html.
STORM TRACKING INFORMATION
Keep track of storm activity with links to the National Weather Service: www.nws.noaa.gov; and the National Hurricane Center: www.nhc.noaa.gov.
SATELLITE IMAGERY
Access extensive satellite imagery, including real time imagery, from the Satellite Services Division of the National Environmental Satellite, Data and Information Service: www.noaa.gov/satellites.html.
WATER LEVELS, TIDES AND CURRENTS
Access information regarding water levels, tides, currents and predictions via the National Oceanic and Atmospheric Administration, National Ocean Service, Center for Operational Oceanographic Products and Services website: tidesandcurrents.noaa.gov
METEOROLOGICAL AND OCEANOGRAPHIC DATA
Access extensive real time and historical meteorological and oceanographic data from the National Data Buoy Service: www.ndbc.noaa.gov.