Back
507 Elm Street

Town of Kearny, Hudson County
Before this abandoned tool and dye shop was converted to a park, parents in the 507 Elm Street neighborhood had to walk their children across active rail lines to access the nearest park. Now, this former brownfield site has become an asset to this vibrant community.
The transformation of this property was done through an open process that engaged various people and required teamwork to address technical issues and obtain resources to see this project to a successful completion. The Mayor and Council for the Town of Kearny, the Hudson County Brownfield Stakeholders Group, and Linda Range, case manager with the New Jersey Department of Environmental Protection, were all important members of the team.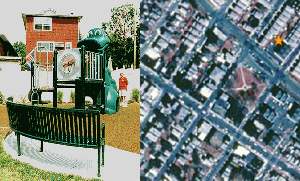 Photo Credits: Hudson County Economic Development Corporation (http://www.hudsonbrownfields.org).
Aerial view from the mid-1990s: NJDEP
More info about this project at http://www.hudsonbrownfields.org/site-k-elmst.php