Back
Antrim Hardware/ Cathedral Kitchen Site

Camden City, Camden County
The Cathedral Kitchen, serving Camden since 1976, will relocate to a new $3.5 million dollar facility on Federal Street in September 2008. The new location, former site of Antrim Hardware, was a designated brownfield that is now fully remediated. The new facility will not only aid Cathedral Kitchen in its mission to provide nutritious meals to the poor and hungry of Camden, but will also model sustainability as a LEED certified building.
The Federal Street location of Antrim Hardware opened in 1889 and was family owned and operated for almost 100 years. The store was closed in the 1980's, a few years after purchase by a Philadelphia-based firm. In 1998, having been abandoned for roughly 10-15 years, it became property of the City of Camden. Remaining abandoned, the site was subject to vandalism and arson – both public health and safety risks.
While the site visibly housed one warehouse and two garages, an investigation by Marathon Engineering and Environmental Services, Inc. in 2004 revealed that there was also on-site contamination. The study found an underground storage tank and two aboveground storage tanks storing heating oil for the building, and gasoline and kerosene for Antrim Hardware customers. Additionally, the presence of volatile organic compounds (VOCs) and lead were detected in groundwater, while semivolatile organic compounds, lead, and arsenic were detected in soil samples - all resultant of historic fill and in concentrations above state standards.
The tanks were removed by Cassie ProTank in accordance with NJDEP cleanup standards, along with 45 cubic yards tons of surrounding contaminated soil due to a leaking underground storage tank. Enhanced Fluid Recovery techniques were utilized to remediate the groundwater, and property compliance averaging as well as soil mixing effused all soil contaminants. A letter of No Further Action, unrestricted use was issued by the NJDEP on September 13, 2007 – indicating that remediation activities had been performed to satisfactory standards and that the site is now safe for all land uses.
Cathedral Kitchen's plan for the site, developed in conjunction with the Camden Redevelopment Agency, includes enhanced amenities and resources for Camden's hungry and is certainly an improvement over their current cramped location in the former Camden Catholic High School gymnasium. A commercial-grade kitchen will allow for more meal preparation, food storage, and operating hours - while a new dining room seating 288 will increase patron access and number served. In addition to housing the soup kitchen, the building will also include medical and dental facilities as well as day services such as showers, a laundry facility, and mail pick-up – resources of which the homeless, poor, and hungry are in great need. The location of job training and referral services on site will also be a valuable asset to Camden's population, almost half of which falls below the poverty line.
In their tradition of service, The Cathedral Kitchen has also considered their responsibility to the environment in the construction of their new home. The building is on track to be LEED certified Silver, with architect Dave Shultz of DAS Architects and developer Clemens Construction Company incorporating the use of recycled materials and energy efficient design. All soil brought in was recycled from the nearby site of Cooper Hospital's new parking garage, the frame of the building was constructed from recycled steel beams, and all drywall is recycled as well. The dining room will have a ceiling height of 23 feet, topped with a full story of windows to utilize and increase natural lighting. All paint, carpet, and furniture in the building will be low VOC.
The NJDEP was a partner in remediation funding through their Hazardous Discharge Site Remediation Fund (HDSRF), allocating approximately $39,500. Funds were also provided through the Community Development Block Grant as well as the Economic Recovery Board. With a total remediation cost of $335,665, a vacant, contaminated, blighted site is now well on its way to becoming a deserving new home to Cathedral Kitchen, an organization which has served the Camden community for over 30 years.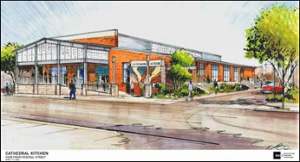 Artist's depiction of the finished Cathedral Kitchen facility.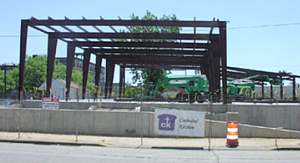 Construction as of May 2008.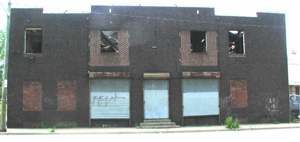 Antrim Hardware site in 2003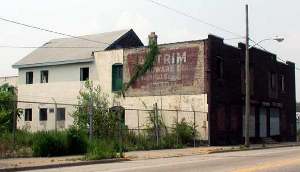 Antrim Hardware site in 2003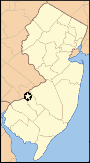 The construction picture (1) is from the Cathedral Kitchen Web site.
The other two pictuyres (2&3) are from the Delaware Valley Rythm & Blues Society Web site.