Back
Former Manasquan Borough Hall Property

Manasquan Borough, Monmouth County
Township of Cranbury, Middlesex County
When the Borough of Manasquan decided to relocate its municipal offices and police station, soil and ground water contamination from a leaking underground storage tank presented a significant obstacle for the transfer, and ultimate redevelopment, of the former Borough Hall property on Taylor Avenue. But thanks to the hard work of many parties, this former brownfields site is now home to five families. The beautiful new luxury townhouses are a great addition to this vibrant shore community.
The successful completion of this project could not have been reached without the strong public-private partnership that developed between the municipality and the developer. The developer, Downtown Manasquan L.L.C., agreed to start construction without receiving a No Further Action Letter from the DEP. The Borough of Manasquan did its part with timely Remedial Investigation and Action Reports that addressed the Department of Environmental Protection's concerns. DEP's case manager, Dean Anderson, played a major role by establishing clear communication with all parties and providing quick responses to reports submitted so that the project would not experience any undue delays. According to Manasquan Mayor Mayor Richard Dunne, "this major project would not have been accomplished in such a timely manner without the expertise and responsiveness of the DEP."
The successful redevelopment of this property has already paved the way for new development in downtown Manasquan including a hotel and restaurant.. Now this site, which was once a cornerstone of Manasquan, will again play an important role in the downtown atmosphere of this charming shore town.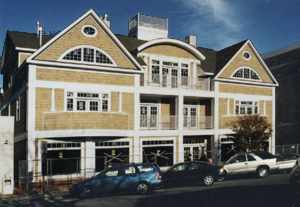 Townhouses after the project's completion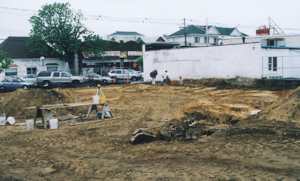 During the project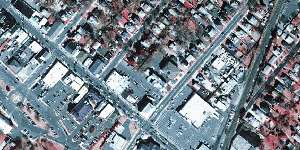 Aerial photo of the site's area in early 2002.


More detailed image.


PDF with detailed aerial view. (165 Kb)