Back
PSE&G, DEP Cooperate to Meet Princeton Library Deadline

Princeton Borough, NJ
PSE&G's Princeton Gas Works site is the center of a major redevelopment plan to include a new public library, an atrium park, an apartment complex and a parking garage.
Working closely with NJDEP case managers Maria Franco-Spera and Matt Turner, PSE&G has worked aggressively to help Princeton complete the library project in a timely fashion. Operating the library from a leased location, there was considerable concern that construction be complete by the time the lease ended. "It looks like we will meet their deadline," says Bruce Preston, PSE&G Manager of Environmental Projects and Technical Services.
A public project, the library has the support of both Princeton Borough and Princeton Township. According to Marvin Reed, who was mayor of Princeton at the time, "This project has been finished in record time - and greatly helped the community." He also commended Turner Construction, who is building the library, and Nassau HKT Associates who will be developing the rest of the projects adjacent to the library.
According to Bruce Preston, "This project has been a winning solution for all parties involved. It's been a pleasure to be able to support our customers in the Princeton area." The library dedication is scheduled for late April 2004.
How to View This Site in i-MapNJ

Internet Mapping in NJ (i-MapNJ) works best with Microsoft Internet Explorer version 4 or higher.

Access the i-MapNJ entry page.
On most browsers, this link will open i-MapNJ in a separate browser window so you can continue referring back to these instructions.

Select "Launch i-MapNJ" and wait until the map of New Jersey finishes loading.

Select "Find an individual location" from the menu on the right side.
A separate browser window with several search options should appear.

Select the "X-Y Coordinates" option.

Enter the following values for the X and Y Coordinates:

for X: 447465
for Y: 553211
HINT: You can use your browser's copy and paste functions.

Select "View Map."

Note: The aerial photos used by i-MapNJ are several years old and do not reflect the current appearance of the site. The underlying i-MapNJ data for interactive analyses are much more recent.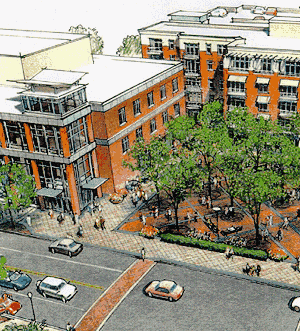 Artist's depiction of the Princeton revelopment project.
Courtesy of the Princeton Library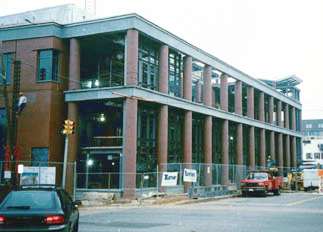 The new library under construction.

See an aerial photo of the area in the mid-1990s. (PDF 1.03 Mb)