Back
Project Freedom

Lawrence Township, Mercer County
Township of Cranbury, Middlesex County
Project Freedom at Lawrence is a 54-unit apartment complex and community center designed and constructed especially for adults with disabilities. This is the third complex Project Freedom has developed in Mercer County; other locations include Robbinsville and Hamilton Township.
This 13-acre site was a vacant lot owned by the New Jersey Department of Transportation (DOT) for 50 years. DOT had intended on using this lot for a roadway until Lawrence Township acquired the property. Project Freedom negotiated a 75-year lease with the Township with a deed restriction for affordable housing. This site was ideal for this type of project due to surrounding residential zones, a bus line running through the area, and its proximity to various shopping centers.
The development was almost scrapped, however, when construction revealed contaminated historic fill on the property. During Project Freedom's construction, large quantities of ash and demolition debris were found 8 feet below grade. This was a turning point for Project Freedom, which felt it did not have the resources to address the contamination. It took a true group effort, spearheaded by Project Freedom, Tracee Battis of the New Jersey Housing and Mortgage Finance Agency (HMFA), the New Jersey Department of Environmental Protection (DEP), and others to come up with the knowledge and resources required to handle the $1million remediation. HMFA eagerly provided coordination, while DEP Case Manager, Chris Dwyer, offered technical guidance and approved the project plan within a month of submittal.
Under the direction of Case Manager Dwyer, Project Freedom was able to solve the problem of residual soil contamination with an engineering control. The building's concrete slab will serve as a cap for the low-level contamination remaining after 2,000 yards of contaminated soil was excavated and disposed off site. A No Further Action (NFA) letter for the contaminated soil will be issued upon the submission of a finalized deed notice.
Project Freedom at Lawrence has been a tremendous success. Upon its opening in November 2003, 50% of the units had been filled, and by January 2004, only 1 of the 54 units remained unoccupied.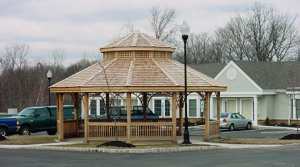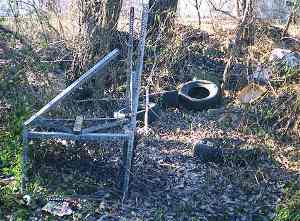 A "before" view of the site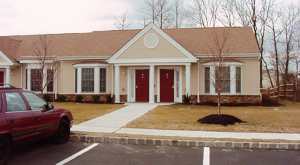 One of the "after" views of the site.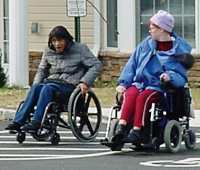 Site reuse is not just about property. It is also about helping people.