Back
So Café

Newark, Essex County
Were it not for the vision of Isabel and Joseph Fernandes, and the help of the State of New Jersey, Malvern Street in Newark's Ironbound district may never have been greeted by the aroma of roasting coffee each day. Mr. and Mrs. Fernandes bought two storefronts in the Ironbound section with the hope of converting an empty warehouse into a busting business, So Café. Today, it is clear that they have reached their goal, serving over 400 customers, many whom place weekly orders.
Ingredients for Success:
When Isabel Fernandes bought the 41-43 Malvern Street site, she was unaware of an underground storage tank lying beneath the property. When refinancing the business five years later, she discovered a 2000 gallon fuel tank under the sidewalk, and contacted the Office of the Ombudsman in the New Jersey Commerce and Economic Growth Commission in order to obtain financial assistance with the impending remediation. Manager Lauren Moore, along with the Office of Business Advocate in the Small Business Environmental Assistance Program, helped Mrs. Fernandes make contacts at the NJDEP who assisted her as she navigated the regulatory process and obtained financial assistance.
So Café received a $123,468 grant for tank removal from the Petroleum Underground Storage Tank Remediation Upgrade and Closure Fund. A Conditional Hardship Grant expedited the clean up without placing an undue financial burden upon the business. Says Joseph Fernandes, "We could have never absorbed the cost of removing the tank and cleaning up the site without the direct and complete help we received from the state."
The New Jersey Department of Environmental Protection determined that the So Café project was eligible for the funding, while the Economic Development Authority determined that the business was financially qualified. With the oversight of case managers Carol Lynn Heck and Ellen Hutchinson, the cleanup progressed in a financially feasible and environmentally sound manner. Whitman Associates is still working on the site, and a No Further Action Letter is expected in early 2004 once final soil and groundwater samples are collected and a CEA is established.
So Café is both an environmental and an economic success - and as a thriving minority woman-owned business, it is an inspiration. What was once a warehouse has become a lively enterprise, adding to the vibrancy of the Ironbound district.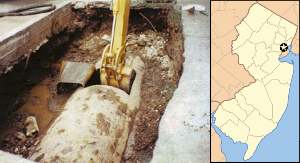 The 2000 gallon underground storage tank being removed.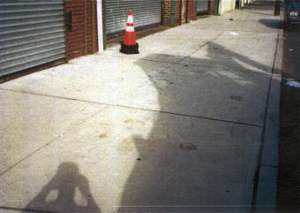 The street after the tank was removed and the site was cleaned up.