Back
Trenton Tunnel Project
Trenton City, Mercer County
In addition to providing direct access from Route 129 to Waterfront Park for those interested in a Minor League baseball game and from Route 129 to New Jersey state government offices for employees looking to cut some time from their daily commute, the Trenton Tunnel's creative design, with beautiful views along the Delaware River, also serves as the foundation for River Walk Park. This 6.3-acre community park sitting atop the Trenton Tunnel graces the South Trenton neighborhood with beautiful gardens, a playground and an historic walkway documenting the City's history from prehistoric times through the present.
The construction of the tunnel was not without environmental issues. Various heavy metals, base neutrals and historic fill were encountered in soil throughout the project area. In some instances the contamination did not effect the ground water, and could be addressed by capping with roadways and restricting the future use of the property. DEP case manager, Kirstin-Pointin-Hahn, was instrumental in the process, and approved the reuse of more than 23,203 cubic meters of minimally contaminated soil. In instances in which the ground water was effected, continual recovery and monitoring is ongoing. Other remedial efforts include the removal of several underground storage tanks and soil excavation. Environmental costs for the tunnel project totaled roughly $17 million for investigative and remedial activities. A No Further Action Letter has not yet been issued due to the ongoing ground water monitoring.
Since its completion, the tunnel has served thousands of motorists and the surrounding neighborhood. Traffic has been redirected from the local streets and River Walk Park is enjoyed by residents and visitors alike. For a leisurely stroll through the history of Trenton, take a walk "on" the Trenton Tunnel.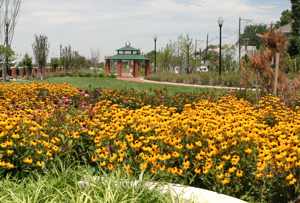 River Walk Park.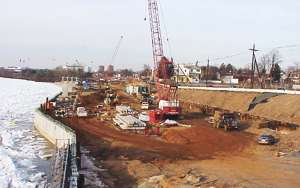 View of the project upon completion of remedial excavation and backfill. December 2000.

Scenes from the site after the project's completion