New Jersey Natural Gas Company Long Branch Plant

(aka Long Branch Manufactured Gas Plant)
100 Brook Street
Long Branch City, Monmouth County
PI #: 012251
Community Relations Coordinator: Heather Swartz (609) 984-7135
SITE DESCRIPTION/RESOLUTION OF ENVIRONMENTAL CONCERNS:
As of 30 April 2020
This site is a 17-acre property located in a primarily residential area of Long Branch. Troutman's Creek, a tributary of the Shrewsbury River, flows through the site. Between 1860 and the 1950s, a series of utility companies operated a manufactured gas plant (MGP) at the property that extracted gas from coal. This process generated a viscous waste known as coal tar, some of which leaked into the ground. The primary contaminants associated with the MGP residues are polycyclic aromatic hydrocarbons (PAHs), and metals, such as arsenic and lead. Although MGP operations were phased out more than 50 years ago, contaminants from the operations remained in the soil, sediments and ground water.
New Jersey Natural Gas (NJNG) acquired the site in 1952, when it purchased the property and natural gas assets from Jersey Central Power & Light. Since 1991, NJNG has been addressing the soil, sediment and ground water contamination that resulted from the former MGP operations. NJNG removed contaminated soil and ground water from the former plant property and adjacent off-site properties, including Seaview Manor and the former Jerry Morgan Park. The excavated areas were backfilled with clean fill material and a soil cap was installed. The ground water pumped from the excavated areas was treated to remove contaminants prior to being discharged to the local sewage authority.
NJNG also removed contaminated sediments from the portion of Troutman's Creek that traverses the facility and installed a multi-liner system in the creek bed to prevent the underlying contaminated ground water from reaching the surface. NJNG subsequently excavated contaminated sediments from the off-site portion of the creek between the Seaview Avenue and Joline Avenue bridges and restored the wetlands areas. As part of the Troutman's Creek remediation project, NJNG dismantled the Seaview Avenue Bridge, excavated the contaminated sediments and soils near the bridge abutments, and replaced the bridge with a boxed culvert. Although NJNG delineated contaminated soil and sediments near the Joline Avenue bridge abutments, that contamination was determined to be the result of historic fill and anthropogenic pollution and was unrelated to the Long Branch MGP site. NJNG continues to conduct protective cap inspections and biennial certification reports in accordance with 12 site soil remedial action permits. NJNG is currently in the final design stages for a multi-phase ground water remedy that includes installation of a deep ground water containment wall, horizontal liner system, and a monitored natural attenuation program with long-term ground water monitoring. Multiple Response Action Outcomes have been issued for the site.
The following is a summary of remediation efforts that includes removal, restoration, and treatment activities through April 30, 2020.
Total volume of soil/sediment excavated and disposed of from all on-site and off-site properties and the creek is approximately 368,500 tons.
Total treated volume of water is approximately 121.5 million gallons.
Approximately three acres of wetland areas and transitional areas were restored.
Photos from the remediation work in Long Branch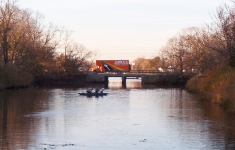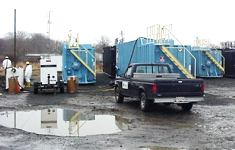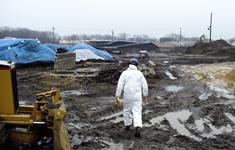 Related Links