Delaware River Basin Commission
---
Delaware • New Jersey • Pennsylvania
---
New York • United States of America
---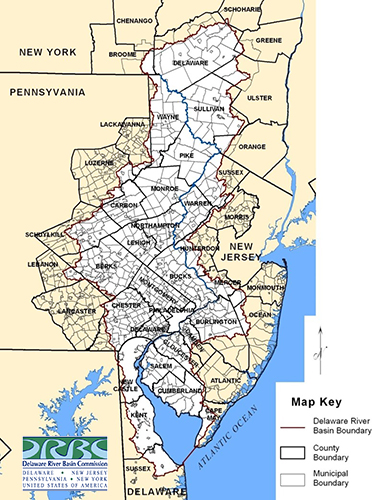 Map of county & municipal boundaries in the
Delaware River Basin.
The Delaware River Basin Commission was formed in 1961 by compact among the four basin states (New York, Delaware, Pennsylvania, and New Jersey) and the federal government.
The DRBC was created so the river system could be managed collectively by the five members, without regard to political boundaries.
When the DRBC was created, some 43 state agencies, 14 interstate agencies, and 19 federal agencies exercised a multiplicity of splintered powers and duties within the watershed, which stretches 330 miles from the Delaware River's headwaters near Hancock, N.Y., to the mouth of the Delaware Bay.
In addition to parts of four states, the basin includes all or portions of 42 counties, 836 municipalities and multiple government entities and jurisdictions.
Federal:
• Federal Representation/Government Links
State:
• Basin State Representation/Government Links
County/Municipal:
• DRB County & Municipality Information
Regional:
• Christina Basin Clean Water Partnership
• Delaware River and Bay Authority
• Delaware River Basin Source Water Collaborative
• Delaware River Joint Toll Bridge Commission
• Delaware River Port Authority
• Delaware Valley Regional Planning Commission
Interstate:
Commission Member Links:
Delaware
|
New Jersey
|
Pennsylvania
|
New York
|
United States
Copyright © Delaware River Basin Commission,
P.O. Box 7360, West Trenton, NJ 08628-0360
Phone (609)883-9500; Fax (609)883-9522
Thanks to NJ for hosting the DRBC website
Last Modified: 04/04/2023