Delaware River Basin Commission
---
Delaware • New Jersey • Pennsylvania
---
New York • United States of America
---
Living Resources: Macroinvertebrates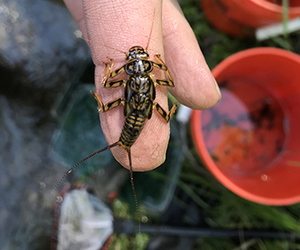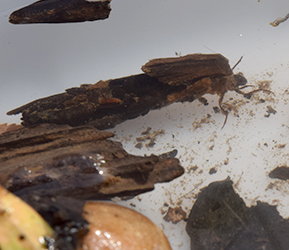 Macroinvertebrates collected as part of an
educational lesson.
Benthic macroinvertebrates are bottom dwelling (benthic) animals and insect larvae that you can see without a microscope (macro) and don't have a backbone (invertebrate).
Simply, they are aquatic bugs.
They live in streams, lakes and rivers attached to rocks, vegetation and other plant debris or burrowed into the bottom sand and sediments.
Examples include aquatic insects, worms, crayfish, clams and snails.
They are an important part of the food chain. They feed on leaves and algae and fish feed on them.
Macroinvertebrates are commonly used by scientists as a biological indicator of water quality:
--They are abundant in most streams and are relatively easy and inexpensive to sample;
--They are sensitive to environmental impacts;
--They are less mobile than fish, and thus cannot avoid discharges, spills, etc.;
--They are also able to detect non-chemical impacts to the habitat, such as siltation or thermal changes; and
--They bioaccumulate many contaminants, so that analysis of their tissues is a good monitor of toxic substances in the aquatic food chain.
Because of these reasons, studying macroinvertebrates helps provide an overall picture of water quality at a particular site. Finding species that are sensitive to pollution is an indicator of good water quality.
Learn More: DRBC's Biomonitoring Program
How to Collect Macroinvertebrates
DRBC Aquatic Biologist Jake Bransky
collects a sample from the Delaware
River using a large net. Photo by DRBC.
DRBC Aquatic Biologist Jake Bransky
brings the collected sample from the
river. Photo by DRBC.
DRBC staff then collect, identify and
count how many macroinvertebrates
were found. Photo by DRBC.
Bugs as a Teaching Tool?
At outreach events across the Delaware River Basin, we use macroinvertebrates as an interactive educational lesson. We'll collect bugs from a local waterway and display them for folks of all ages to view and learn about. The lesson is simple: the amount and kind of macroinvertebrates found in a waterbody can help tell how clean it is. Some are very sensitive to pollution and others are more tolerant. Because the waters of the basin are generally healthy, we typically find several sensitive species, for example, mayflies, stoneflies and caddisflies, in our collections.
Kids and adults alike love looking at
the trays of macroinvertebrates to
see what they can find. Photo by DRBC.
Kids can also become "Major Macro."
This science superhero comes equipped
with everything needed to study aquatic
bugs. Photo by DRBC.
We enjoy nothing more than seeing
engaged kids eager to learn about
what we do! Photo by DRBC.
Video: Good Bugs Mean Healthy Rivers
Links to Learn More
Identification Key
Common Stream Invertebrates Sampled in the Non-Tidal Delaware River (pdf)
Atlas of Common Freshwater Macroinvertebrates of Eastern North America
General Information
Stroud Water Research Center: Leafpack Network
Stroud Water Research Center: Macroinvertebrate Resources
New York State Department of Environmental Conservation: Freshwater Macroinvertebrates
U.S. EPA National Aquatic Resource Surveys: Indicators - Benthic Macroinvertebrates
Commission Member Links:
Delaware
|
New Jersey
|
Pennsylvania
|
New York
|
United States
Copyright © Delaware River Basin Commission,
P.O. Box 7360, West Trenton, NJ 08628-0360
Phone (609)883-9500; Fax (609)883-9522
Thanks to NJ for hosting the DRBC website
Last Modified: 06/11/2021