Home
>
About the 2019 EMP
Clean energy is vital for our future from both an economic development and environmental sustainability policy perspective. With this in mind, Governor Murphy, through Executive Order 28, has set an ambitious goal of setting New Jersey on the path to a conversion to 100 percent clean energy by 2050, and we are moving full speed ahead.
New Jersey's 2019 Energy Master Plan (EMP) is intended to set forth a strategic vision for the production, distribution, consumption, and conservation of energy in the State of New Jersey. The State's energy policy reflects the full scope of New Jersey's current energy service and its future. New jobs, industries, and workforce development will be needed, providing exciting, new opportunities for New Jersey residents and businesses.
As part of this new vision for a sustainable future, the new EMP will reflect new goals for the state:
Putting New Jersey on a path to achieve 100 percent clean energy by 2050
Growing New Jersey's clean energy economy
Ensuring reliability and affordability for all customers
Reducing the state's carbon footprint
Advancing new technologies for all New Jersey residents
The New Jersey Board of Public Utilities (NJBPU) serves as the lead agency and is tasked with the development and oversight of the State's EMP Committee. To achieve the Governor's ambitious energy goals, the EMP Committee is organized into five work groups. While the work groups are composed of state agency members, there will be ample public opportunity to comment through a robust stakeholder process. The first opportunity will be a series of stakeholder meetings in September. Following the meetings, the work groups will develop a draft plan and again solicit public feedback in spring 2019, with final presentation of the 2019 Energy Master Plan to Governor Murphy by June 2019.
In June 2018, NJBPU President Joseph Fiordaliso named Grace Power, NJBPU Chief of Staff, as EMP Committee chair.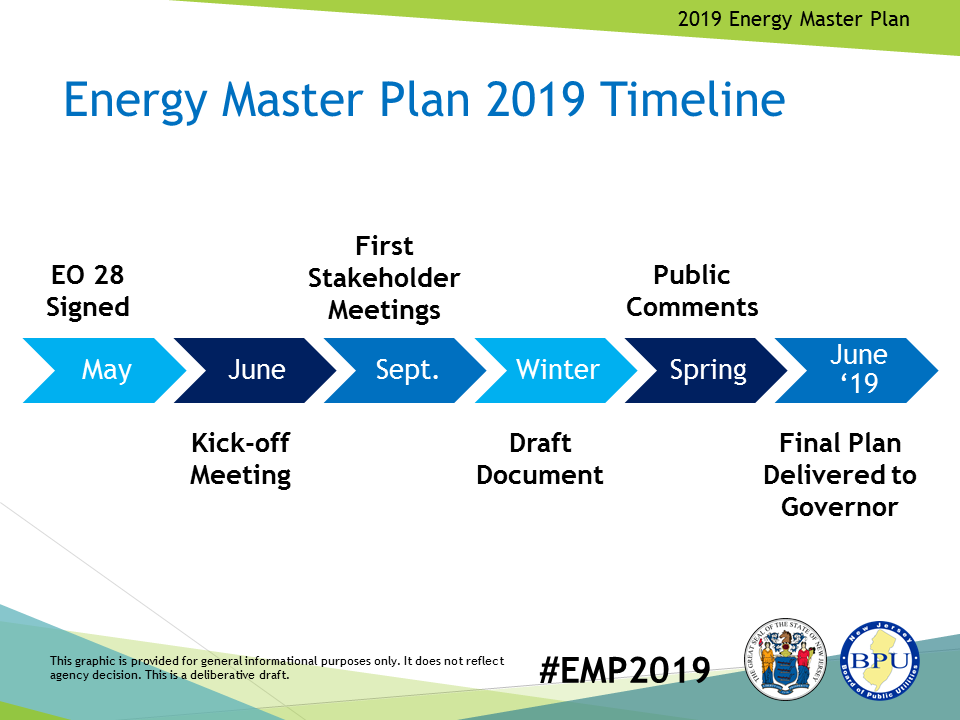 The EMP Committee is composed of five work groups:
Clean and Renewable Energy—Group lead: Kenneth Sheehan, Director, Division of Clean Energy
The cornerstone of the EMP is to establish a path to 100 percent clean energy for New Jersey by 2050. Recognizing the need for significant investment and support for clean energy sources, particularly the considerable opportunity for the development of offshore wind energy in New Jersey and continued growth of the state's solar portfolio, the work group will focus on shifting New Jersey's energy production profile away from reliance on outdated technologies that contribute to global climate change and toward clean energy sources through innovation in energy policy.
Sustainable and Resilient Infrastructure—Group lead: Cynthia Holland, Director, Office of Federal and Regional Policy
New Jersey has made significant investments in its infrastructure in recent years. To continue to innovate and provide reliable service to New Jersey customers, the EMP will investigate the pathways forward to ensure that New Jersey has secure, modern, and resilient infrastructure. Doing so requires analyzing existing infrastructure as well as planning for new, updated infrastructure and technologies for the transition to 100 percent clean energy. The EMP must also evaluate the role of restructuring and competitive markets on infrastructure and energy needs, including New Jersey's location on the border between two regional grids. New systems, policies, and procedures may be needed to ensure resilience and reliability across New Jersey.
Reducing Energy Consumption—Group lead: Sara Bluhm, Business Ombudsman
Reducing energy consumption and emissions while maintaining efficiency and affordability will be a priority of the EMP. Governor Murphy's leadership to curtail the serious impacts of climate change caused by greenhouse gas emissions, including actions taken to rejoin the Regional Greenhouse Gas Initiative (RGGI), will further be discussed along with the potential to avoid emissions through reduction in use. The group will also examine how utilizing technologies to reduce consumption can offset increases in consumption in other areas, such as electrified transportation, and how reductions in consumption translate to savings in energy costs.
Clean and Reliable Transportation—Group lead: Michael Hornsby, Chief Project Development Officer
Recognizing that the transportation sector is the leading source of greenhouse gas emissions in New Jersey, the Clean and Reliable Transportation will focus on how to reduce the state's carbon footprint and advance electric and alternative fuel vehicles. The Plan will also identify methods to incentivize the use of clean, efficient, technological advances in commercial and public transportation operations.
Building a Modern Grid—Group lead: Michael Winka, Senior Policy Advisor
Building a modern grid to meet New Jersey's new energy needs and goals will require addressing and overcoming current barriers to new and enhanced infrastructure. The EMP will explore the utilization of new and developing technologies to allow the affordable distribution of energy to all customer classes, as well as developing new plans and policies for grid modernization and maintenance as the state transitions to 100 percent clean energy by 2050. The work group will also examine new cyber security policies, procedures, strategies, and enhancements to maintain security and reliability, particularly in the face of new and impending climate and environmental challenges.