Existing Marketplace Customers
Welcome to Get Covered New Jersey, the state's official health insurance marketplace where you can shop for and enroll in quality, affordable health coverage, and the only place to receive financial help to lower premium and out-of-pocket costs. As of November 1, 2020, New Jerseyans use GetCovered.NJ.gov instead of HealthCare.gov to shop for and enroll in 2021 coverage. If you previously enrolled in a health plan at Healthcare.gov, your coverage is not ending – it will continue with Get Covered New Jersey.
Residents with Marketplace plans were automatically transitioned to Get Covered New Jersey. Existing Marketplace customers received notices explaining their continued coverage for 2021.
Get Covered New Jersey has worked with the federal government to continue your Marketplace health coverage. HealthCare.gov provided Get Covered New Jersey with 2020 application and enrollment information. This was used to create a new user account for you on GetCovered.NJ.gov. You should have received a letter or email from Get Covered New Jersey (or from no-reply@getcovered.nj.gov) with an access code to log in to your new user account. If you did not receive the email, please check your spam folder. You can access your account now. Open Enrollment for 2021 health coverage started on November 1, 2020 and ends on January 31, 2021.
Enter your access code
Where to find your access code in communications from Get Covered New Jersey: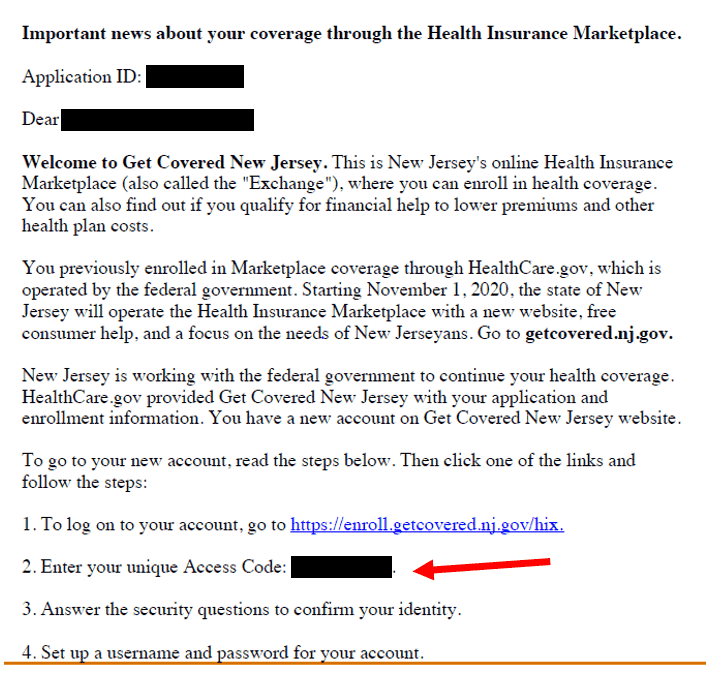 Open Enrollment is November 1, 2020 through January 31, 2021
If you had a 2020 plan on the federal Marketplace and are typically auto-renewed in coverage, you were auto-enrolled in the same or similar plan for 2021 on Get Covered New Jersey. If you want to change your plan, you will be able to access your account with your access code and pick a new plan on Get Covered New Jersey during the Open Enrollment Period. If you have not selected auto-enrollment, you will use your access code to access your account and can then shop and choose a plan.
You cannot enroll in a health plan the rest of the year unless you have a life event that qualifies you for a Special Enrollment Period.

Back
to top