Simple and Easy with New Jersey eWIC
Participants will be provided an update from their local agency in 2021, so there is no need to do anything to get ready for eWIC right now
eWIC will be available in 2021 and will be rolled out county by county throughout the state.
NJ WIC will begin to provide WIC food benefits electronically. The new system is called eWIC.
Benefits assigned to participants will be loaded into a family benefit account. The eWIC card will be used instead of checks.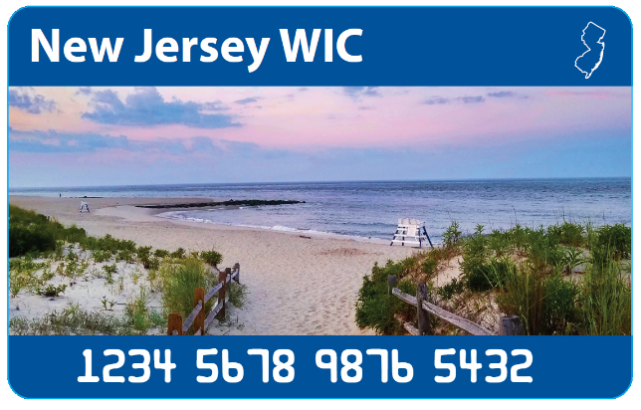 What is an eWIC card?
An eWIC card is like a debit card but with food items instead of cash. You will select a PIN for the card. A PIN is your Personal Identification Number. Your PIN, a special four-digit number and your eWIC card will let you make your authorized WIC food purchases at the grocery store. A PIN should not be shared.
How will the WIC benefits get to my eWIC account?
The WIC nutritionist will continue to help you select your food package at your WIC visit.
One card will be issued for each family. The WIC food benefits for all family members will be on the eWIC card.
Every month, your family's WIC food benefits will automatically be added to your eWIC account and you will be able to get your food benefits at the store using your eWIC card.
Frequently Asked Questions
How is eWIC different from SNAP (Food Stamp) EBT
Is the eWIC card the same as the SNAP/EBT?
SNAP is a cash based benefit, while eWIC provides food items to its participants.
What if the participant wishes to pay with eWIC and SNAP?
If the store has a cash register system which allows for several forms of payment, you can combine your purchases without needing to separate your eWIC purchase from the other items you want to purchase. The eWIC benefits must be used first. Some stores may need you to separate your WIC and non-WIC items at the register.
Features of the eWIC card
Do I get a new eWIC card every month?
No. Monthly benefits are loaded onto your eWIC account. Participants can access their benefits using their eWIC card and their PIN number.
Remember to bring the eWIC card with you to every WIC appointment. Keep the eWIC card in a safe place and do not give out your PIN.
Will there be only one card for all household members on eWIC?
Yes. All family members including foster children on WIC within the same household, will have their benefits on the eWIC account accessible through only one card.
What happens if I lose my eWIC Card?
You will need to contact your Local WIC Agency.
What happens if I forget my PIN?
You will need to contact the number on back of you eWIC card.
How much time do I have to use my food benefits?
Just as with the paper checks, the WIC food benefits are good for a full benefit month and will expire on the last day to use for the household.
Good news, you can shop for just the food items you need!
Will I be able to spread purchases out over more than one shopping trip?
Yes. Participants will be able to shop as many times as they want during the benefit period.