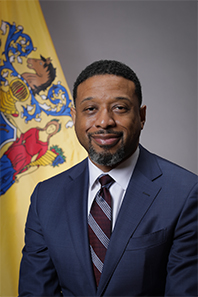 Brian Bridges, Ph.D., currently serves as Secretary of Higher Education for the state of New Jersey, a role he began on November 16, 2020 as part of Governor Phil Murphy's administration.
As Secretary, Dr. Bridges is responsible for policy development and coordination of higher education activities for the state, including supporting institutions amid the ongoing COVID-19 pandemic. He also coordinates initiatives to improve college affordability in New Jersey through the State Plan for Higher Education and enhance postsecondary opportunities while promoting equity and access for all through programs such as the state's Community College Opportunity Grant (CCOG).
Dr. Bridges previously served as Vice President of Research and Member Engagement at the United Negro College Fund (UNCF) in Washington, DC where he led UNCF's Frederick D. Patterson Research Institute (FDPRI) and the Institute for Capacity Building (ICB). He served as the organization's chief research officer, principal editor, and contributor to FDPRI's publications, as well as the manager of internal and external projects involving capacity building, evaluation, and assessment. Dr. Bridges also led the UNCF Career Pathways Initiative, a project funded by the Lilly Endowment, to improve job placement outcomes at Historically Black Colleges and Universities (HBCUs) and Predominantly Black Institutions (PBIs).
Prior to joining UNCF, Dr. Bridges served in various leadership roles both on- and off-campus, including Vice Provost for Diversity, Access, and Equity at Ohio University; Associate Director of the Center for Advancement of Racial and Ethnic Equity at the American Council on Education; and Associate Director at the National Survey of Student Engagement (NSSE). While at NSEE, he managed a million-dollar subcontract for the Building Engagement and Attainment of Minority Students project, a national initiative funded by Lumina Foundation to assist minority-serving institutions in using their NSSE results for institutional improvement. He is a former Assistant Professor of Higher Education Administration at George Washington University. Throughout his career, Dr. Bridges has served as a media resource and provided expert perspective and analysis on numerous panels and advisory committees on issues related to student engagement, HBCUs, learning environments at minority-serving institutions, and success factors for African American college students at predominantly white institutions.
Dr. Bridges earned his Doctorate in Higher Education Administration from Indiana University–Bloomington, a Master of Public Administration degree from the University of North Carolina–Charlotte, and a Bachelor's of Arts in English Language and Literature from Francis Marion University. Dr. Bridges was born in Brooklyn, NY and reared in Beaufort, SC.