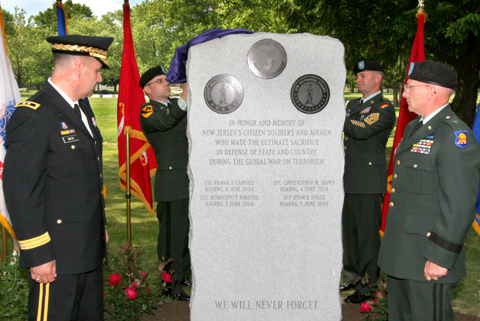 On May 28, a ceremony took place on the grounds of the New Jersey Department of Military and Veterans Affairs. The Global War on Terrorism Memorial honored
four members of Battery B, 3rd Battalion, 112th Field Artillery who were killed in action in Iraq in June 2004: Staff Sgt. Frank Carvill of Carlstadt; Staff Sgt. Umberto
Timoteo of Newark; Sgt. Ryan Doltz of Mine Hill; and Spc. Christopher Duffy of Brick.
Maj. Gen. Glenn K. Rieth, The Adjutant General of New Jersey stated, "It is most fitting and appropriate that we all come together to honor the service, sacrifice,
and the sacred memories of these four brave soldiers on this, the first official observance of Memorial Day since their loss." Photo by Tech. Sgt. Mark Olsen,
NJDMAVA/PA.