TAG's Message: Six years in the making
By Maj. Gen. Glenn K. Rieth, The Adjutant General - New Jersey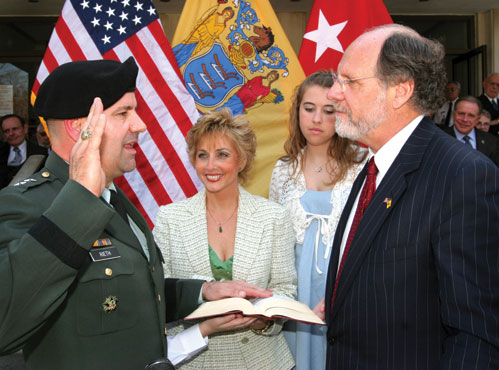 Governor Jon S. Corzine congratulates Maj. Gen. Glenn K. Rieth after administering the oath of office at the New Jersey Department of Military and Veterans Affairs while his wife Linda and their daughter Erika watch. Photo by Tech. Sgt. Mark Olsen, NJDMAVA/PA.

This special issue of Guardlife has been six years in the making. It captures some of what the New Jersey National Guard has been doing to protect the lives, properties and freedoms of the citizens of our state and nation. While incomplete by necessity and brief by practicality, this issue attempts to give a glimpse into who we are and what we do. More dramatically, with the timeframe beginning on Sept. 11 2001, it shows who we have become…and how we have responded to terrorist attacks, homeland security challenges, war zone deployments and much, much more.
As this issue is being prepared, the 50th Infantry Brigade Combat Team is preparing to depart New Jersey for a year-long deployment that will take them to Texas…and then Iraq. With our second Embedded Training Team still in Afghanistan, our General Support Aviation Battalion in Kuwait, and our Aviation Assault Battalion preparing to deploy a second time to Iraq, we are at the forefront of our nation's Global War on Terrorism. Through the years, Airmen from both Air Guard units have deployed to Iraq and Afghanistan as part of Air Expeditionary Force rotations…and will no doubt return before this conflict is over.
The Transformation that the Army and Air has been going through has brought us new missions, equipment and abilities. Take a look at our brand new – not secondhand, like before – Light Medium Tactical Vehicles and HMMWVs. The Air side is ushering in new missions and updated aircraft. Together, we are training and equipping for the future.
Take the time to read about your New Jersey National Guard. Take a look at the map that illustrates the locations worldwide where our units and individual deployers have been. Believe me, the map does not fully capture the breadth and depth of our contributions nationwide and overseas…but it gives you an idea. If we were to point out every single location where a Jersey Airman or Soldier has set foot, there wouldn't be any room left to see the map.
Over the period covered in this magazine, we have consistently shown ourselves to be a world-class organization. Before any crisis arises, we have proven to be poised, prepared and mission-ready. When called up, we have demonstrated our ability to train up, suit up and load up. When the mobilization order comes, we show a penchant for rapid deployment and quick theater integration. While in theater, the Jersey Guard has earned a reputation for its skill and professionalism. There is no better proof that we can do the job, than the fact that we did it…time and time again!
While limited to a six-year period, this publication tells a story that reflects a proud tradition and history. To all the men and women that have made this history possible, I say thank you. Because, for all the new equipment, vehicles and aircraft that have been arriving daily into our inventories, it is the Soldier and Airman that get the job done. Your spirit, determination, can-do attitude and resilience are the reasons for our success. I'd like to also thank the families, friends and loved ones who have helped share the burden of our increased operational tempo.
Whatever the next six years will bring – or what the future holds beyond that – I am confident that the Soldiers and Airmen of the New Jersey Army and Air National Guard will continue to rise to any challenge and carry on the good work of protecting our communities, state and nation.