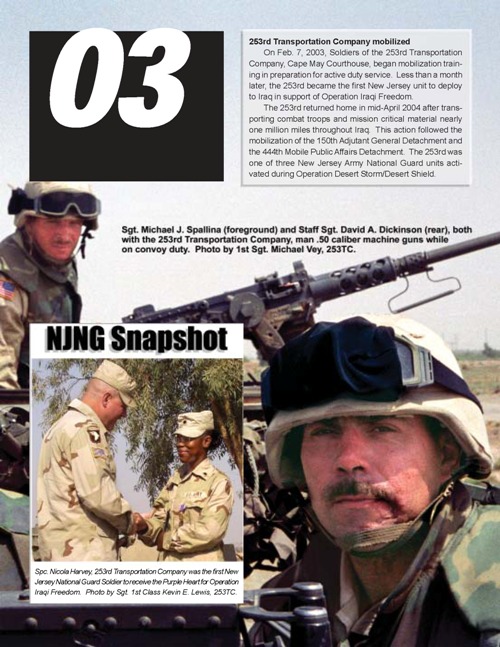 "Guardians of Freedom" depart for Europe

On March 8, 2003, 70 108th Airmen departed from New Jersey to support operations in Southwest Asia.

The Airmen were mobilized under the Air Force's Air Mobility Command to support Operation Enduring Freedom and were assigned to an undisclosed location in Europe where they provided air refueling and airlift support.

This mobilization came on the heels of the Wing's mobilization and deployment of approximately 200 "Guardians of Freedom" to Oman from Dec. 2001 to July 2002, in support of the same operation.

Army Guard Soldiers mobilized

Several Army Guard battalions began home station premobilization training and soldier readiness processing in early 2003 in preparation for a yearlong active duty mobilization supporting Operation Noble Eagle.

Beginning May 2003 and continuing through the end of the month, approximately 300 Soldiers mobilized for extended active duty service at Fort Dix, Fort Monmouth and Picatinny Arsenal to provide security for these highly critical military facilities in New Jersey.

The Citizen-Soldiers came from the 50th Main Support Battalion headquartered in Teaneck; the 5th Squadron, 117th Cavalry Regiment headquartered in Vineland and D Battery, 3rd Battalion, 112th Field Artillery Regiment headquartered at the National Guard Armory in Cherry Hill.

Company B sent to Iraq




In November 2003, 50 Soldiers of Company B, Truck Motor Transport, 50th Main Support Battalion headquartered in Dover were mobilized to augment their 16 fellow unit members already serving with the Guardís 253rd Transportation Company in support of the 101st Airborne Division in Iraq.

The unit consisted of Heavy Equipment Transport tractor- trailer vehicles capable of transporting payloads up to 70 tons, which includes tracked vehicles such as tanks and armored personnel carriers to various locations to and from the battlefield. Following pre-mobilization at their home station, the unit moved to Fort Eustis, Va., for mobilization, processing, and deployment to Southwest Asia where they conducted convoy operations throughout the Iraqi theater.

All 50 Soldiers returned to Dover on March 13, 2005, after successfully completing the yearlong deployment to Iraq.

Aviation deploys to Panama

The first contingent of the 1-150th General Support Aviation Battalion (GSAB) arrived in Panama on Jan. 13, 2003 to begin a five-month mission providing aviation support to Task Force Chiriqui during Operation New Horizons í03 humanitarian mission.

Their equipment, including three shrink-wrapped UH-60 helicopters, arrived by sea from the Port of Philadelphia on Jan. 19. During a five month period, 59 GSAB Soldiers rotated through Panama to provide medical evacuation and air transport for the Task Force.