Highway Operations and Facilities
Re-Entry Work Initiative
Program Description
The Highway Operations and Facilities Re-Entry Work Initiative is a collaborative effort between the New Jersey Department of Transportation (NJDOT), the New Jersey State Parole Board (NJSPB) and the re-entry community designed to establish a program to place NJSPB parolees, as well as other disadvantaged populations, into hourly Temporary Employment Services (TES) positions to perform general highway and building maintenance activities.

Participants in the program are paid a competitive hourly rate for a
6-month employment duration not to exceed 944 hours. Individuals will also be provided formalized classroom and on-the-job training in various highway and building maintenance activities in a team-oriented environment.
Program Timeline
Recruitment for the program will run in the fall and spring of each year, with applications being accepted in mid-October and mid-April, and employment beginning during the month of February and August.
| | | |
| --- | --- | --- |
| Applications to Be Submitted | Mid October | Mid April |
| Interviews to Be Scheduled | Mid November | Late May |
| Interviews to Be Held | Late November | Late May |
| Conditional Offers to Be Made | Mid December | Mid June |
| Criminal History to Be Submitted | Mid December | Mid June |
| Drug Screening to Be Held | Early January | Early July |
| Official Offers to Be Made | Late January | Late July |
| Employment Begins | February | August |
Work Locations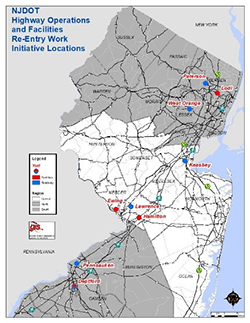 Operations Field Crews (OFCs) are strategically located throughout the State in high traffic/high congestion areas where litter and other external roadway aesthetic details are an ongoing challenge. Facilities and Grounds Crews (FGCs) are located throughout the State to augment existing NJDOT resources.
| Region | Highway Operations | Facilities |
| --- | --- | --- |
| North | Paterson & West Orange | Lodi |
| Central | Lawrence & Keasbey | Hamilton & Ewing |
| South | Deptford & Pennsauken | Deptford |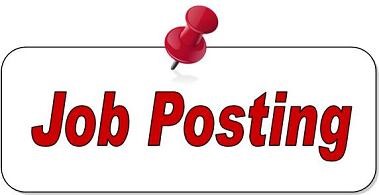 To view the current posting, click the icon above.
INSTRUCTIONS
In order to apply and be considered for these opportunities, you must submit a complete packet by the closing date indicated on the posting that includes the following documents:
NJ State Application for Employment (use link below)
Location preference form (use link below)
Current resume
Letter of interest (Identify which position(s) you are applying for— "ROADWAY" or "FACILITIES")
Submit your complete application packet via email to:
DOT.NJDOTJOBS@dot.nj.gov

Subject line should read: #18-00114 [Your Last Name, First Name]
DOCUMENTS & FORMS


Applicants MAY NOT be considered if applicant fails to provide all requested documents upon initial submittal or fails to follow instructions when submitting electronically. Applicants will be selected for an interview on the basis of the application/resume.