The Cannabis Regulatory Commission seeks to establish and grow a responsible, regulated medicinal and recreational cannabis industry. By applying the values of safety and equity, the Commission will center its work around creating and protecting access for patients, the production of safe products, and promoting diversity and inclusion in the industry to develop a national model for sensible, fair oversight.
Commission Leadership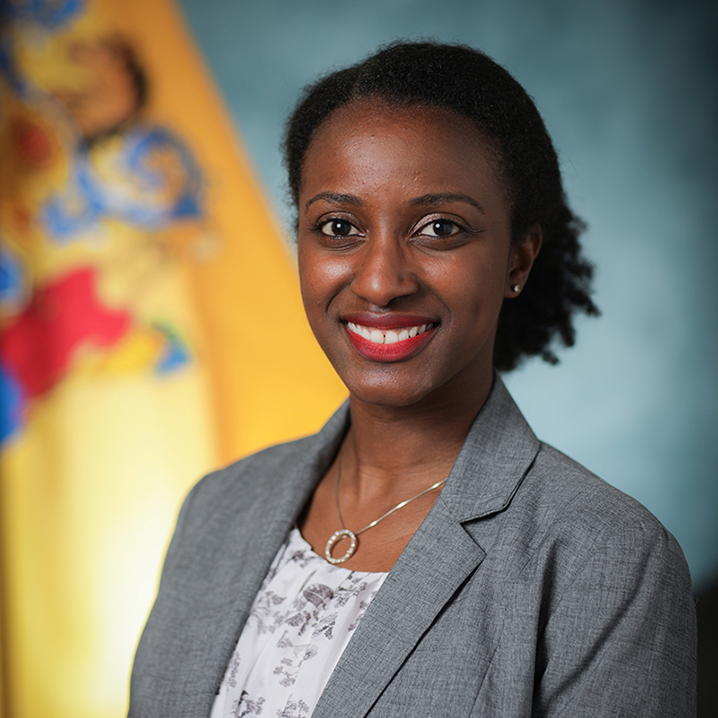 Dianna Houenou
Chair
Dianna Houenou serves as Chair of the New Jersey Cannabis Regulatory Commission, appointed by
Governor Phil Murphy in 2021. As Chair, she works with other members of the Commission and the Executive Director to successfully stand up and operate New Jersey's first agency to regulate the adult-use cannabis market.
Prior to her appointment, Dianna served as Senior Policy Advisor and Associate Counsel in the Governor's Office, advising Governor Murphy on policy and legislative issues concerning criminal justice, military and veterans, community affairs, and immigrants' rights. In that role, she was heavily involved in the establishment of New Jersey's Office of New Americans and advancing the Administration's criminal justice priorities, including expungement reform and cannabis legalization. She also supported multiple executive branch departments in developing and implementing legislation, executive orders, and new policy initiatives.
Before joining state government, Dianna was Policy Counsel with the American Civil Liberties Union of New Jersey (ACLU-NJ), where she developed legislative strategies for ACLU-NJ advocacy campaigns and led the organization's coalitions advocating for cannabis legalization and Newark police reform. Evidence of her work with the ACLU-NJ can be found all across New Jersey: from the establishment of Fair and Welcoming policies in local towns and State government to the restoration of voting rights for people on probation and parole, and from the law requiring the Attorney General to investigate police-involved deaths to New Jersey's path towards legalizing cannabis for adults with a focus on social justice.
Dianna earned her B.A. in Chemistry and Afro-American Studies from the University of North Carolina at Chapel Hill and her J.D. from the University of North Carolina School of Law.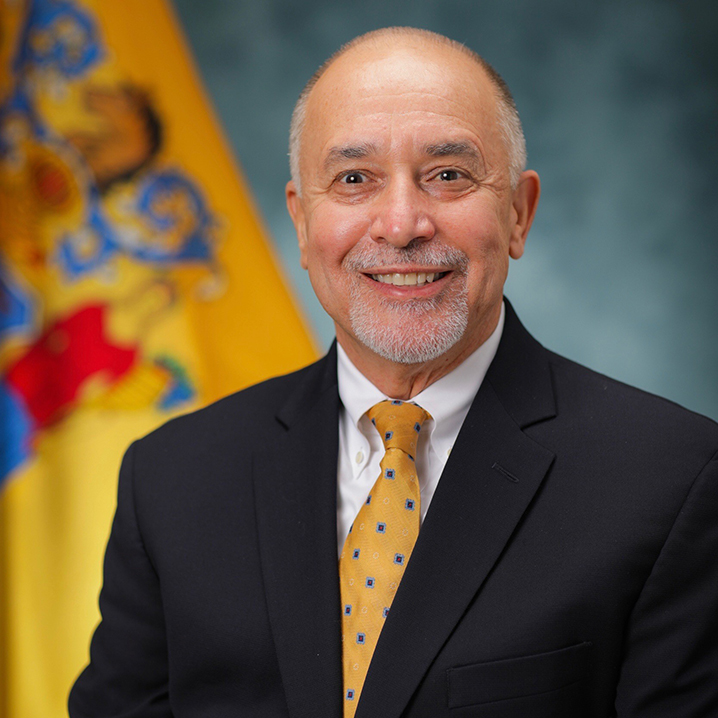 Sam Delgado
Vice Chair
Samuel (Sam) Delgado is retired Vice President, External Affairs for Verizon New Jersey. During his 21 years with the company he held various positions in human resources, corporate procurement, and government affairs. During his last 13 years, he served as Vice President External Affairs for Verizon New Jersey, Inc. and was responsible for matters related for the company's external environment including: municipal and county relationships, emergency management, public policy, customer service, public relations, and the Verizon Foundation.
Sam is a retired Marine Corps Reserve Combat Communications Officer with 20 years' experience having served during Operation Uphold Democracy (1994-95) in the Republic of Haiti. In Haiti, he reported directly to former New York City Police Commissioner Ray Kelly monitoring human rights abuses; and mentoring and managing an international public security force. His military awards include the Defense Meritorious Service Medal. In 2010 he returned to Haiti to assist in earthquake relief efforts acting as liaison for Doctors Without Borders, the Haitian Government, NGOs and U.S. Military Units.
He served as advisor and key fundraiser for the WNET documentary; "The Borinqueneers" which chronicled the only segregated Hispanic Army Unit in US History.
In 2014, he co-chaired Newark Mayor Ras Baraka's "Housing and Economic Development" Transition Team. He is also past chairman of Newark Regional Business Partnership and past board member of the Newark Alliance. He is a current member of the American Red Cross NJ Regional Council and the Board of Trustees and Regents of Felician University. He is a founding board member of the Statewide Hispanic Chamber of Commerce of New Jersey.
In 2017-18, he chaired "New Jersey 4 Puerto Rico Relief", a 501c3; helping raise $170,000 in relief for Puerto Rico following Hurricane Maria. He was appointed by Governor Murphy to serve on his Veteran Affairs transition team subcommittee and New Jersey Commission on Puerto Rico Relief.
He is a 1978 graduate of Marist College with a degree in Political Science, and one of the original "Marist Poll" student pollster under Professor Lee Miringdoff, PhD. He is a graduate of the Marine Corps Basic School, Quantico, Virginia and a 2004 Lead New Jersey Fellow. He is married to Assemblywoman Yvonne Lopez, New Jersey's 19th Legislative District and lives in Perth Amboy, New Jersey.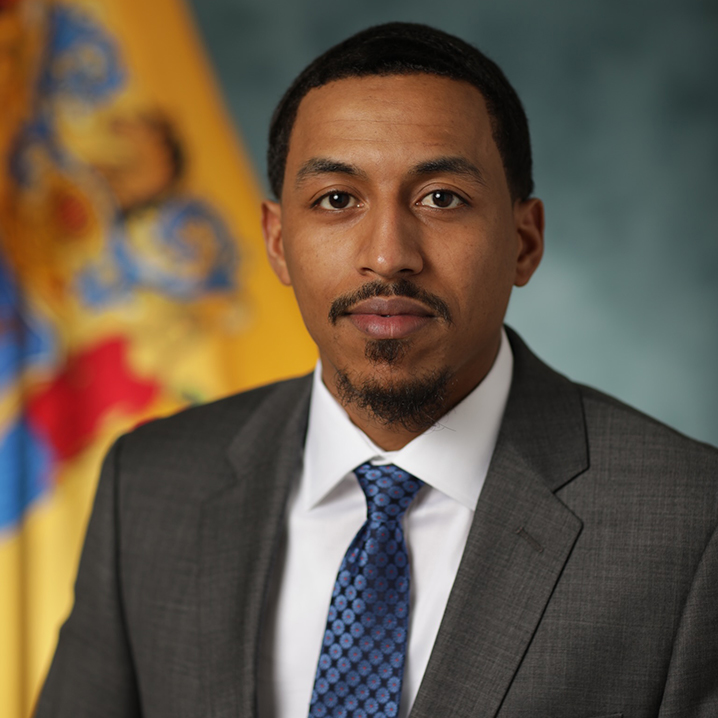 Charles Barker
Commissioner
A native of Passaic City, Charles Baker served as a Constituent Advocate and Projects Specialist to U.S. Senator Cory Booker for four years, managing several policy areas such as criminal justice reform and cannabis, economic and small business development, financial services, consumer protection, and technology and innovation. During the 2018 election, he served as a Strategic Advisor to the campaign of Anthony Cureton, the first Black Sheriff in Bergen County.
Charles currently lives in Essex County. He received his Bachelor of Science from Rutgers University and Juris Doctor from Brooklyn Law School.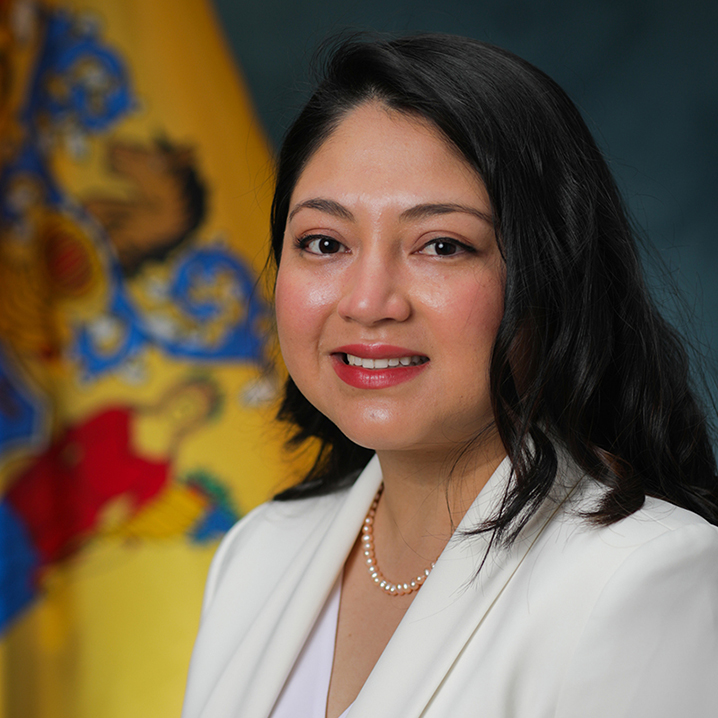 Maria Del Cid-Kosso
Commissioner
Maria Del Cid-Kosso is a longtime New Jersey resident, born in Guatemala and raised in Plainfield, NJ.
Prior to being appointed by Governor Phil Murphy to the Cannabis Regulatory Commission, Maria was the Director of Policy and Legislative Services at the New Jersey Department of Health (NJDOH). She has worked tirelessly responding to the COVID-19 pandemic and leading strategic communications on statewide vaccination efforts. Maria was instrumental in crafting and assessing hundreds of legislative bills that promoted equitable policies in healthcare, from Jake Honig Compassionate Use Medical Cannabis Act to mandating flu shots in healthcare facilities and other key legislation to NJDOH's mission.
Maria is a devoted public servant. At 23 years old, she became the Chief of Staff to the late New Jersey Assemblyman and Speaker Pro Tempore, Jerry Green. There she played a key role in managing legislation in the Assembly's Health and Housing-Community Development Committees. Additionally, she has strong political roots in Union County where she was the Director of the Hillary 2016 Campaign Headquarters in Plainfield, ensuring that Black and Latinx communities exercised their right to vote. Maria first became involved in politics when she served as Campaign Assistant for U.S. Senator Robert Menendez's re-election in 2012.
Maria earned her Associates Degree in Psychology at Union County College and continued her education at Seton Hall University where she graduated Summa Cum Laude with a bachelor's degree in Psychology and Political Science. She also holds a master's in Public Affairs and Politics from the Edward Bloustein School, Rutgers University.
Del Cid is passionate about expanding the educational opportunities available to undocumented youth and amplifying marginalized voices in politics. At the age of 25, she established her very own "Del Cid Dreamers" Scholarship with the Union County College (UCC) Foundation.
Maria is an alumna of the New Jersey New Leaders Council, Emerge NJ, and Rutgers NEW Leadership Program. She is a former Board Member of LUPE Fund Inc., a Barack Obama Fellow (OFA) and was the first Latina elected President of the Union County Young Democrats. Del Cid serves as the Co-Chair of the Latino Caucus, NJ Democratic State Committee.
She was awarded the Union County Women of Excellence Award in Government, the Hazel Frank Gluck Award from the Eagleton Institute of Politics, Urban League of Union County Young Professionals Award in Government, and was recognized on InsiderNJ's 50 under 30: The Millennial Up and Comers in New Jersey Politics and 2018, 2019 InsiderNJ's 100 Millennial, and 2020 Millennial to Watch for.
Del Cid is a proud military spouse and currently lives in Union Township with her husband.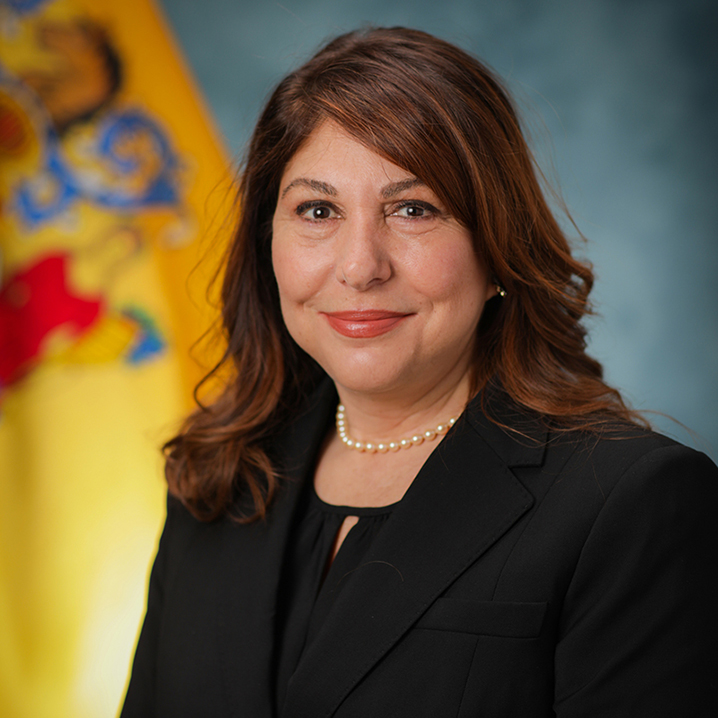 Krista G. Nash
Commissioner
Krista comes to the New Jersey Cannabis Regulatory Commission from Volunteers of America Delaware Valley where she served as the Director of the PROMISE Program. In this capacity, Krista worked to meet the unique needs of individuals exiting the criminal justice system with cooccurring disorders.
Krista has devoted her professional career to social justice initiatives, particularly working with formerly incarcerated individuals who struggle with homelessness, substance use and mental health disorders. Prior to her extensive reentry work with Volunteers of America, Krista worked with the Goldring Reentry Initiative through the University of Pennsylvania, where she helped individuals incarcerated in the Philadelphia Prison System transition safely to the community. Krista has also worked with Oaks Integrated Care and Rutgers University's Transitions for Youth Program mentoring historically underserved adolescents. Krista volunteers as a member of the Camden County Addiction Awareness Task Force.
Krista is a Licensed Social Worker in the State of New Jersey. She received her bachelor's degree in Social Work from Rutgers University and achieved her master's degree in Social Work from the University of Pennsylvania. Krista was born and raised at the Jersey Shore. She currently resides in Winslow Township with her husband Jeff. They have three adult children.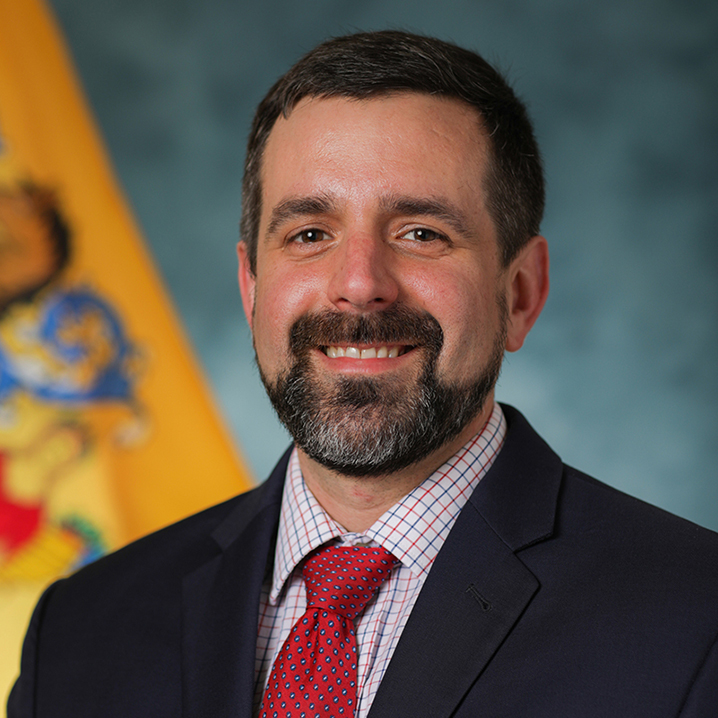 Jeff Brown
Executive Director
Jeff Brown serves as the Executive Director of the Cannabis Regulatory Commission. In this role he is responsible for the management and direction of the staff and offices at the Cannabis Regulatory Commission, and the operations necessary to regulate New Jersey's cannabis industry.
Prior to being appointed by the Governor as Executive Director, Jeff served as Assistant Commissioner at the NJ Department of Health, overseeing the Division of Medicinal Marijuana. Under his leadership the Division of Marijuana expanded access to patients throughout New Jersey, increasing enrollment from 17,000 in early 2018 to over 100,000 at the end of 2020, and tripling the number of dispensaries. He also served a critical role in the Department's COVID-19 response efforts, serving as the Department lead for the Atlantic City Field Medical Station and assisting the Department's COVID-19 testing task force.
Prior to working at the Department, Jeff worked extensively on the passage and implementation of the Affordable Care Act, particularly the creation of health insurance exchanges and the expansion of Medicaid, led an association of community-based providers to implement innovative new payment models in Medicaid, and fought to expand access to healthcare in New Jersey's urban communities by developing sustainable financing policies.
He has served in leadership roles in the NJ Health Care Quality Institute, the Hospital Alliance of New Jersey, and NJ Citizen Action, and has served on the boards of the Trenton Health Team Accountable Care Organization and New Leaders Council, NJ.
Before entering the field of public policy, Jeff worked on a number of electoral campaigns including Joe Sestak's successful primary bid for Senate in 2010, for Barack Obama's grassroots organization, Organizing for America, and he helped launch President Obama's reelection campaign in New Hampshire in 2011.
Jeff grew up in Mercer County and graduated Summa Cum Laude from Rutgers University and prior to that, Mercer County Community College.