Delaware River Basin Commission
---
Delaware • New Jersey • Pennsylvania
---
New York • United States of America
---
Diversity, Equity, Inclusion & Justice
At DRBC's 2Q Business Meeting on June 10, 2020, Executive Director Steve Tambini opened the meeting by sharing the following message on behalf of the DRBC Commissioners and staff: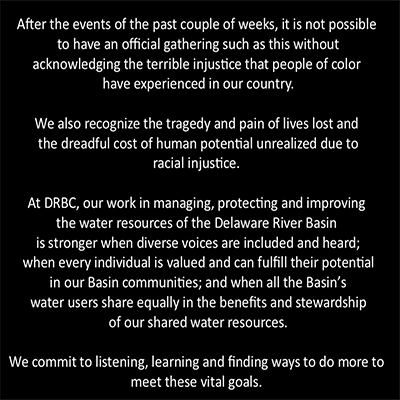 At DRBC, we are committed to the following core values:
Service: to the public, the regulated community and our DRBC colleagues.

Respect: for each other, the public and the Basin's water resources.

Professionalism: defined by high ethical standards, integrity, continuous improvement and accountability.

And, we are committed to applying these core values to meet the vital goals of Diversity, Equity, Inclusion and Justice (DEIJ).

We know our work to meet these goals will evolve with knowledge, time and experience. For starters:
DRBC staff are part of the Coalition for the Delaware River Watershed's (CDRW) workgroup on DEIJ.


DRBC is in the process of forming an internal workgroup to help develop a DEIJ strategic plan for the Commission that will translate to policy and practices to support DEIJ goals.


Additional training, learning and outreach opportunities for staff are being researched and will be implemented.


Our commitment to DEIJ is essential to our mission of managing, protecting and improving the basin's shared water resources. Just as we all can do our parts to keep our waters clean, we all must do our parts to ensure that our basin community is one of respect, inclusion and equality.
Commission Member Links:
Delaware
|
New Jersey
|
Pennsylvania
|
New York
|
United States
Copyright © Delaware River Basin Commission,
P.O. Box 7360, West Trenton, NJ 08628-0360
Phone (609)883-9500; Fax (609)883-9522
Thanks to NJ for hosting the DRBC website
Last Modified: 07/01/2020